Happy Marriage?!, Volume 7 manga review
By Leroy Douresseaux
August 9, 2014 - 20:25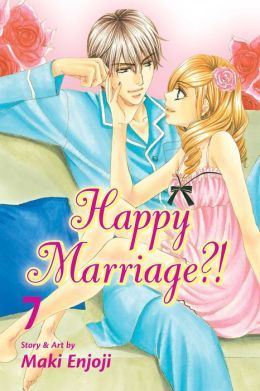 Happy Marriage?! Volume 7 cover image is courtesy of barnesandnoble.com.
Follow me on
Twitter
.
Rated "M" for "Mature"
Chiwa Takanashi
never had any girlish fantasies about courtship and marriage, but it is unlikely that she imagined the scenario that did happen. When she was 22-year-old, Chiwa married a total stranger just to get her father out of debt! Her husband, 28-year-old
Hokuto Mamiya
, was the President and CEO of
Mamiya Commerce
. Their marriage, for a time, was a secret, with only Hokuto's personal assistant,
Taeko Soma
, knowing of this union's true nature. Two years later, Chiwa is 24 and is also really in love with her husband.
As
Happy Marriage?!

, Vol. 7
(Chapters 25 to 28) opens, Hokuto is working harder than ever, so he and Chiwa rarely spend time together. Meanwhile, Chiwa continues to work at
Ai-Max
, where she works under an old college classmate,
Kaname Asahina
. He uses their past to bring up an old complication.
Things also turn more complicated at home. When Hokuto's father,
Seiji Mamiya
, who is currently hospitalized, suffers more health complications, Chiwa rushes to his side, and she wants Hokuto there, also. Now, she will be forced to learn of the troubled history between father and son.
THE LOWDOWN:
After reading several volumes of the
Happy Marriage?!
manga, I have learned something that I probably should have learned from the beginning. Chiwa and Hokuto's is not a happy marriage. The two love each other, but with family, friends, work, and Chiwa's own insecurities, there is constant fighting. That puts the kink in the happy part of the happy marriage.
Happy Marriage?! Volume 7
really emphasizes Hokuto's passive-aggressive nature – the way he stops coming home when he has a disagreement with his wife. Vol. 7 also emphasizes, as another character says, that Chiwa is constantly crying.
Happy Marriage?!
isn't a great shojo romance, but it can be a good read more often than not. With the cliffhanger ending to this volume, this series is in the good read zone.
POSSIBLE AUDIENCE:
Readers looking for shojo romantic drama will find that in the Shojo Beat title,
Happy Marriage?!
Rating: B+ /10
Last Updated: August 31, 2023 - 08:12