Happy Marriage?! Volume 6 manga review
By Leroy Douresseaux
June 24, 2014 - 16:57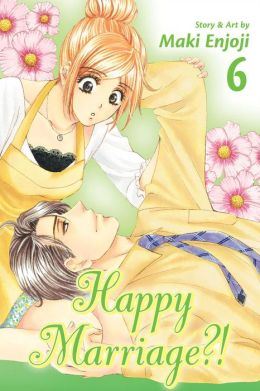 Happy Marriage?! Volume 6 cover image is courtesy of barnesandnoble.com.
Follow me on
Twitter
.
Rated "M" for "Mature"
When she was 28-years-old, Chiwa Takanashi married a total stranger just to get her father out of debt! Her husband is 28-year-old Hokuto Mamiya, the President and CEO of Mamiya Commerce. Their marriage is a secret, with only Hokuto's personal assistant, Taeko Soma, knowing of the marriage's true nature. Two years later, Chiwa is 24 and is also really in love with her husband.
As Happy Marriage?!, Vol. 6 (Chapters 21 to 24) opens, Chiwa and Hokuto argue over Chiwa's visit to Hokuto's father, Seiji Mamiya, who is currently hospitalized. Despite Hokuto's anger, Chiwa is determined to learn more, including what happened to Hokuto's mother.
Later, Hokuto takes a trip overseas, and his actions make Chiwa think that she has to take drastic actions. Plus, Chiwa meets the beautiful Misaki Shitara, a professional woman who has a past with Hokuto.
[This volume contains two bonus stories, "SM-oholic" and "The Return of SM-oholic + N."]
THE LOWDOWN: I had mixed feelings about the Happy Marriage?! manga after reading it for the first time (Vol. 2), but now enjoy it. I am intrigued not so much by Chiwa and Hokuto's romance and evolving marriage as I am by the supporting cast. Chiwa's college crush Kaname Asahina is every bit as interesting as Hokuto is. Misaki Shitara looks like she will be an excellent (dare I hope, dangerous) foil for Chiwa.
Although not as sizzling as Vol. 5, Happy Marriage?! Volume 6 is an essential graphic novel in the series because it introduces Shitara, and especially because it makes some revelations about Hokuto's late mother. I think that if creator Maki Enjoji continues to focus on family and professional relationships as much as she does on the romance, Happy Marriage?! will continue to be entertaining.
POSSIBLE AUDIENCE: Readers looking for shojo romantic drama will find that in the Shojo Beat title, Happy Marriage?!
Rating: B+ /10
Last Updated: August 31, 2023 - 08:12