Happy Marriage?! Volume 5 Advanced manga review
By Leroy Douresseaux
March 30, 2014 - 16:36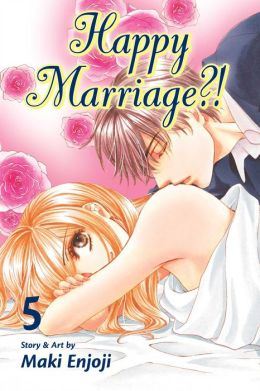 Happy Marriage?! Volume 5 cover image is courtesy of barnesandnoble.com.
Rated "M" for "Mature"
Twenty-two-year-old Chiwa Takanashi marries a total stranger, just to get her father out of debt! Her husband is 28-year-old Hokuto Mamiya, the President and CEO of Mamiya Commerce. The two live a secret life together, with only Hokuto's personal assistant, Taeko Soma, knowing of the marriage's true nature. Two years later, Chiwa is 24 and is also really in love with her husband.
As Happy Marriage?!, Vol. 5 (Chapters 17 to 20) opens, Chiwa is trying hard to be a good wife, and to her, that means fixing her husband breakfast. Sadly, Hokuto doesn't want it. Intruding on this domestic bliss is more bad news from Chiwa's father. He is still having trouble making ends meet. Chiwa is determined that Hokuto not pay her father's bills, so she decides to return to work.
However, she does not want to return to Mamiya Commerce. Shingo Sakuraba, an old college pal, offers her a job at Ai-Max Limited. That's great news, until Chiwa learns that she will be working as an assistant for another old college pal, Kaname Asahina, with whom she has a complicated past. Plus, it's time for another visit with the dysfunctional Mamiya family.
THE LOWDOWN: After having mixed feelings about the Happy Marriage?! manga after reading it for the first time (Vol. 2), I have grown to like it. Now, that the early difficulties of an admittedly fake marriage are past, it is time to move onto telling the story of a young couple learning to fall in love after the wedding and post-first-intimacy.
Happy Marriage?! Volume 5 moves past the lovey-dovey and reveals more about the lead characters' personalities and desires. Creator Maki Enjoji offers this central conflict: how does a man who is used to keeping his own counsel deal with a wife who is determined not to be shut out of her husband's thoughts, professional life, and family affairs? Now, Happy Marriage?! moves from young love to romantic drama, and a superb supporting cast is emerging. Start reading, now.
POSSIBLE AUDIENCE: Readers looking for shojo romantic drama will find that in the Shojo Beat title, Happy Marriage?!
Rating: A /10
Last Updated: August 31, 2023 - 08:12