Happy Marriage?! Volume 4 manga review
By Leroy Douresseaux
February 6, 2014 - 15:07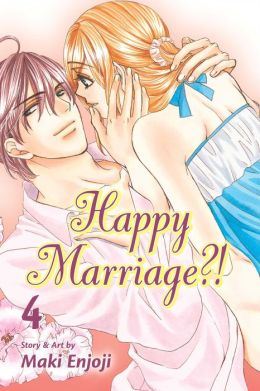 Happy Marriage?! Volume 4 cover image is courtesy of barnesandnoble.com.
Rated "M" for "Mature"
To help her father get out of debt, 22-year-old Chiwa Takanashi marries a total stranger. Her husband is 28-year-old Hokuto Mamiya, the President and CEO of Mamiya Commerce. The two live a secret life together, with only Hokuto's personal assistant, Taeko Soma, knowing of the marriage's true nature. To complicate things, Chiwa works in the same office as her husband.
Happy Marriage?!, Vol. 4 (Chapters 13 to 16) opens shortly after Chiwa met Hokuto's family for the first time. That holiday gathering at the Mamiya Estate did not go too well, but at least it gave Chiwa a chance to stand up for her man.
Now, she expects that Hokuto will finally make love to her, which will also be the first time she has ever had sex. But that first time is foiled, when Hokuto has to leave for work. In the aftermath of that disappointment, Chiwa is going out every night and getting drunk with Yu Yagami, a Mamiya Commerce employee who was once very much in love with her. Plus, her actions at the Mamiya family gathering will come back to haunt her and her marriage.
[This volume includes a bonus story.]
THE LOWDOWN: Admittedly, I had mixed feelings after reading the Happy Marriage?! manga for the first time (Vol. 2). As of Vol. 3, I started to enjoy the series. Happy Marriage?! Volume 4 has me looking forward to the next volume. Let's just say that things do get "hot in herre."
Of course, Happy Marriage?! offers much that is familiar in shojo romance. The female lead pines and whines. The simplest misunderstandings transform into reasons for the ultimate breakups, and every chapter offers a "cock block" in one form or another. Still, Happy Marriage?! makes for a happy read.
POSSIBLE AUDIENCE: Readers looking for both frothy romance and hot-and-heavy love will find that in the Shojo Beat title, Happy Marriage?!
Rating: A- /10
Last Updated: August 31, 2023 - 08:12