Happy Marriage?! Volume 3 manga review
By Leroy Douresseaux
December 26, 2013 - 11:41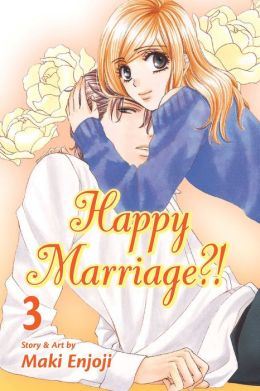 Happy Marriage?! Volume 3 cover image is courtesy of barnesandnoble.com
Rated "M" for "Mature"
With her father in debt, 22-year-old Chiwa Takanashi enters into a marriage to help him. Her husband is 28-year-old Hokuto Mamiya, the President and CEO of Mamiya Commerce. The two live a secret life together, with only Hokuto's personal assistant, Taeko Soma, knowing of the marriage. To complicate things, Chiwa works in the same office as her husband.
As Happy Marriage?!, Vol. 3 (Chapters 9 to 12) opens, Chiwa finds herself taking care of an ill Hokuto. The doctor suggests that food will help him feel better, but Hokuto seems like the ultimate picky eater. So how does a wife feed a husband who is also practically a total stranger to her?
Then, it's Christmas time. Chiwa wonders what to get Hokuto, but a missing gift simply makes everything more complicated and the season more unseasonable. Next, "Is it All Right if I Stay by Your Side?" is the story that introduces Chiwa to Hokuto's dysfunctional family. Chiwa wants to stay by Hokuto's side, but will she still feel the same way when he confesses the real reason he married her?
THE LOWDOWN: I had mixed feelings after reading the Happy Marriage?! manga for the first time (Vol. 2). Happy Marriage?! Volume 3 is a much more enjoyable read to me. I think series creator Maki Enjoji is quite good at finding the right comic situation to exploit Chiwa and Hokuto's predicament.
Both characters think that they not only know what they want, but also what each other wants. Chiwa constantly wonders if Hokuto loves her, but also wonders if she is loving him the right way. These are some of the most reliable situation comedy hooks: confusion, misunderstanding, and assumption. This comedy of errors makes it fun to watch the characters clown themselves.
POSSIBLE AUDIENCE: Readers looking for a delightful bickering couple will find one in the stars of the Shojo Beat title, Happy Marriage?!
Rating: A- /10
Last Updated: August 31, 2023 - 08:12