Happy Marriage?! Volume 2 manga review
By Leroy Douresseaux
September 30, 2013 - 12:34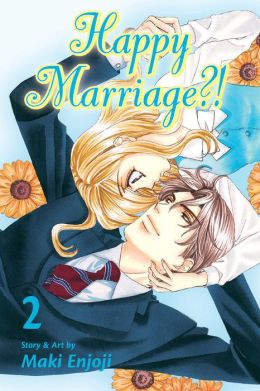 Happy Marriage Volume 2 cover image is courtesy of barnesandnoble.com.
Rated "M" for "Mature"
In order to get her father out of debt, 22-year-old Chiwa Takanashi enters into a marriage. Her husband is 28-year-old Hokuto Mamiya, the President and CEO of Mamiya Commerce. The two live a secret life together, with only Hokuto's personal assistant, Taeko Soma, knowing of the marriage. To complicate things, Chiwa works in the same office as her husband.
As Happy Marriage?!, Vol. 2 opens, Chiwa worries that Hokuto is cheating on her. She shares her concerns with the company's hot new recruit, Yu Yamagi, but tells the young man that she is seeking advice for a friend. Meanwhile, paparazzi catch Hokuto in the company of hot actress, Yukana Kishi.
Chiwa gets a little closer to Yu than she expected, which captures Hokuto's attention. Then, Chiwa is reunited with an old college friend, 26-year-old Shingo Sakuraba, the director of small startup business. Is this another sign that the terms of the marriage contract are the only things keeping Chiwa and Hokuto together?
THE LOWDOWN: Early in my reading, I grew bored with the Happy Marriage?! manga. Chiwa Takanashi's fretting and doubting just became repetitive – real fast. However, I started to notice that one of Happy Marriage?!'s hooks is the clever way creator Maki Enjoji gives her characters a penchant for misunderstanding everything and everyone.
This series is like a comedy of errors in which the characters are just self-centered, self-absorbed, and clueless enough to spite themselves. A little effort and a little honesty would bring them closer to what they want, if not outright get it for them. Pretty soon, I found myself laughing and enjoying Happy Marriage?! It is not a great work, but it is an effective romantic comedy and drama about misunderstanding and misdirection. Sometimes, it's just fun to watch the characters clown themselves.
POSSIBLE AUDIENCE: Readers looking for a delightful bickering couple will find one in the stars of the Shojo Beat title, Happy Marriage?!
Rating: B+ /10
Last Updated: August 31, 2023 - 08:12