Souya Himawari's Happiness Recommended
By Leroy Douresseaux
Jun 19, 2008 - 13:03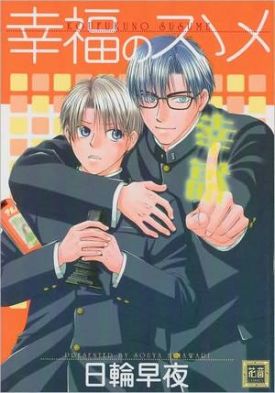 June Manga's edition will keep the cover image, but drop the Japanese copy.
Rated "YA" for "Young Adults 16+"
After his beloved grandfather dies, Yakiharu Hiraga discovers that he isn't all alone. He has six brothers, the rest of the Hiraga clan. Suddenly, Yakiharu is no longer living in his grandfather's home. He's living in a dilapidated house with no adult supervision, and he now has to share his brothers' complete and total poverty.
Now, Yakiharu feels responsible for his brothers' well being. How can he juggle high school and a part time job with enough hours to put food on the table? Plus, some of his brothers aren't exactly warming up to him, and like a ghost from the past, new neighbor, Makoto Otonari, is not so new and is getting a little too close for comfort.
THE LOWDOWN: While it has plenty of elements of boys' love manga (or BL) – comics that depict love between two male characters, Happiness Recommended is a family drama. The combative gay romance between Yakiharu and Makoto is funny and gentle – more romantic (shounen-ai manga) than explicit (yaoi manga).
As someone who loves stories about plucky orphan children, I love that this tale pushes the idea that even in the worst of times one can find happiness in family, friends, and home. Manga-ka (creator) Souya Himawari pours on the good feelings, but her narrative is more heartwarming and engaging than it is overwrought. Her art is also strong, not only well drawn, but firm and highly-efficient in capturing the perfect mood for a character at a particular moment.
POSSIBLE AUDIENCE: When it comes to stories of brotherly acceptance, male bonding, and neighborhood romance, happiness is recommended.
A-
Last Updated: Jun 26, 2018 - 9:28