Hana-Kimi 3-in-1: Volume 1
By Leroy Douresseaux
March 14, 2012 - 11:30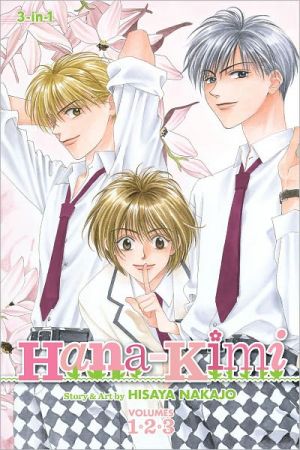 Hana- Kimi 3-in-1 Volume 1 cover image
Rated "T+" for Older Teen
Hana-Kimi is a shojo manga from Hisaya Nakajo. VIZ Media is publishing the series in a 3-in-1 edition, which collects three volumes of the series in one book. Hana-Kimi: For You in Full Blossom 3-in-1 Edition, Vol. 1 collects Vols. 1-3 of the series.
The star of the series is Mizuki Ashiya, a 16-year-old girl who loves a challenge. This Japanese girl, who lived in America, was a star track and field athlete at her high school. Three years ago, she was watching television when she saw youth high jump champion, Izumi Sano, on television, and she fell in love with him. Now, Mizuki faces her biggest challenge. She has returned to Japan and enrolled at an all-male high school, Osaka Private High School. There, she disguises herself as a boy and begins her plot to get closer to Izumi.
As Vol. 1 opens, Mizuki has successfully enrolled at Osaka, but her first meeting with Izumi is not as she had hoped. She's shocked to learn that Izumi is no longer a high jumper. Mizuki also attracts the attention of another boy, Shoichi Nakatsu, a bleach-blonde soccer star, who is worried that he is gay. But he's willing to be gay for Mizuki, whom he believes to be a boy.
In Vol. 2, Mizuki takes on Izumi's rival, Kagurazaka, who challenges Izumi to return to high jumping. Meanwhile, Izumi begins to train again, but is it to prove something to himself or to Mizuki. In Vol. 3, Mizuki, Izumi, and Nakatsu head to Hayama Lodge during summer break, where they will work as hotel employees. A lecherous fellow employee, young man named Takami Makita, sets his sights on Mizuki. Izumi is suspicious of him, but is it jealousy or does he really care about Mizuki?
THE LOWDOWN: I'm assuming that I've read other manga in which a teen girl disguises herself to pass as a boy. In the Hama-Kimi manga, Mizuki does not make a convincing male, as a few characters quickly figure out that she is a girl.
For me, what makes this series work is the supporting cast. There are a number of good characters: protagonists, antagonists, rivals, and just plain villains. The lady killer Takami Makita brings hard-edged conflict to the third volume, so the Hayama Lodge storyline isn't just about young lovers playing peek-a-boo and hard-to-get. School physician, Dr. Hokuto Umeda, acts as a nice sounding board and Greek chorus for Mizuki. The delightful Shoichi Nakatsu almost completes a love triangle with Mizuki and Izumi, and he certainly brings in plenty of comic relief.
Hana-Kimi: For You in Full Blossom is not a great series. As high school shojo romance series go, however, it does have a good cast. That counts for a lot.
POSSIBLE AUDIENCE: Fans of Shojo Beat high school series will like Hana-Kimi: For You in Full Blossom.
B+
Last Updated: January 24, 2022 - 11:00