Haikyu!! Volume 15 manga review
By Leroy Douresseaux
Feb 27, 2018 - 23:50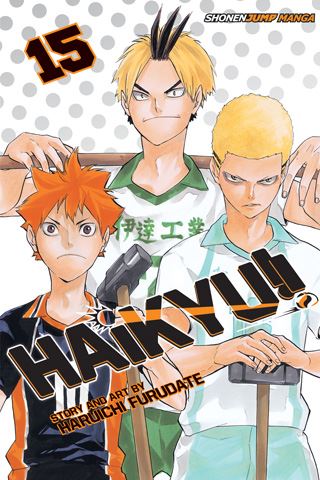 Haikyu Graphic Novel Volume 15 cover image
Rated "T" for "Teen"
Shoyo Hinata
saw the legendary volleyball (haikyu) player known as "the Little Giant" compete at the national volleyball finals. It was then that Hinata began a quest to be the best volleyball player ever. In a sport in which tall athletes dominate, however, Hinata's height of 5'4" is considered too short. Now playing for
Karasuno Public High School
with his rival,
Tobio Kageyama
, Hinata does not believe that a player needs to be tall in order to play volleyball, especially when a player can jump higher than anyone else – as he can.
As
Haikyu!!

, Vol. 15
(entitled
Destroyer
; Chapters 126 to 135) opens,
Date Tech
and
Aoba Johsai
are battling. The winner gets a spot in the semifinals of the
Miyagi Prefecture Preliminary Round
of the
National Spring High School Volleyball Tournament
, and their opponent will be Karasuno. Whoever wins, Karasuno will find an opponent capable of making adjustments and of showing its opponents something new and different with a mere substitution of a player.
[This volume includes a bonus story.]
THE LOWDOWN:
The Haikyu!! manga is really good at depicting all that is fast and furious about a volleyball match. Creator Haruichi Furudate constantly places challenges in front of his star team, Karasuno, as they move through the brackets of the big spring tournament.
Haikyu!! Volume Graphic Novel 15
offers two competitive matches. Once the readers get caught up in the excitement, they will find themselves zipping through this graphic novel. Vol. 15 ends with another heckuva cliffhanger – the middle of a big match for Karasuno. Haikyu!! continues its quest to be one of the best volleyball comic books ever.
I READS YOU RECOMMENDS:
Fans of sports manga will want the Shonen Jump title,
Haikyu!!
A
8 out of 10
Rating: 8 /10
Support this writer on Patreon
Last Updated: Jun 26, 2018 - 9:28