Haikyu!! Volume 12 manga review
By Leroy Douresseaux
Aug 7, 2017 - 22:24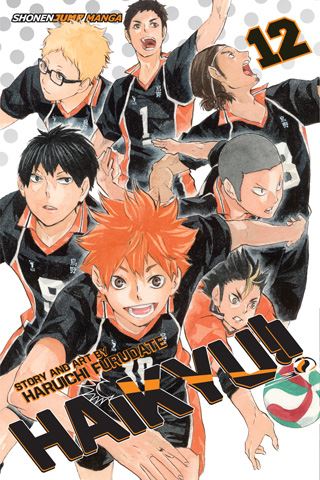 Haikyu Volume 12 cover image
Rated "T" for "Teen"
He once saw the legendary volleyball (haikyu) player known as "the Little Giant" compete at the national volleyball finals. It was then that
Shoyo Hinata
began aiming to be the best volleyball player ever. However, in a sport in which tall athletes dominate, Hinata's height of 5'4" is considered too short. Now playing for
Karasuno Public High School
with his rival,
Tobio Kageyama
, Hinata does not believe that a player needs to be tall in order to play volleyball, especially when a player can jump higher than anyone else – as he can.
As
Haikyu!!

, Vol. 12
(entitled
The Tournament Begins
; Chapters 99 to 107) opens, Karasuno begins its two games in the
Miyagi Prefecture Preliminary Round of National Spring High School Volleyball Tournament
. First, the team faces
Ohgi Minami
, and many people think this team will beat Karasuno. Next, up is
Kakugawa
, which is basically a one-man team. That one man, however, is first-year player,
Yudai Hyakuzawa
, a 6' 7" giant who is hard to block and whose spikes are practically unstoppable!
[This volume includes a bonus story.]
THE LOWDOWN:
The Haikyu!! manga chugs on with exciting sports action. Creator
Haruichi Furudate
delves deep into the game of volleyball and into the hearts of the players, and the result is usually an engaging high school sports comedy and character drama.
Haikyu!! Volume 12
is one of those engaging volumes. Karasuno's games go quickly, which allows Furudate to play around with his characters' motivations and preparation, as well as to depict their efforts to be better players. Haikyu!! seems to be on a quest to be a better sports manga, and it does not have far to go to reach that goal.
I READS YOU RECOMMENDS:
Fans of sport manga will want the Shonen Jump title,
Haikyu!!
A
8.5 out of 10
Rating: 8.5 /10
Support this writer on Patreon
Last Updated: Jun 26, 2018 - 9:28