Haikyu!! Volume 11 manga review
By Leroy Douresseaux
May 30, 2017 - 23:37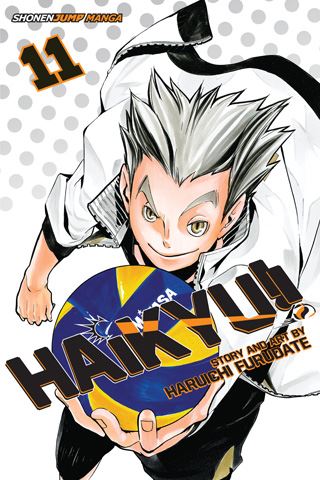 Haikyu!! Volume 11 cover image
Rated "T" for "Teen"
Shoyo Hinata
once saw the legendary volleyball (haikyu) player known as "the Little Giant" compete at the national volleyball finals. It was then that Hinata began aiming to be the best volleyball player ever. However, in a sport in which tall athletes dominate, Hinata's height of 5'4" is considered too short. Now playing for
Karasuno Public High School
with his rival,
Tobio Kageyama
, Hinata does not believe that a player needs to be tall in order to play volleyball, especially when a player can jump higher than anyone else – as he can.
As
Haikyu!!

, Vol. 11
(entitled
Above
; Chapters 90 to 98) opens, the Tokyo training camp continues with five high school volleyball teams, including Karasuno High. Karasuno has only won three games, but have lost 61! Now, they take on the best team at the training camp,
Fukurodani
. Have Hinata and Kageyama refined their (in)famous "freak quick" soon enough to give their team its only big win during the camp? Plus, the Miyagi Prefecture Preliminary Round of National Spring High School Volleyball Tournament begins.
THE LOWDOWN:
I can say this again: the Haikyu!! manga, with each volume, makes strides to be a memorable shonen sports manga. Creator
Haruichi Furudate
delves deep into the game and into the hearts of the players, and the result is an engaging sports comedy and high school character drama.
Haikyu!! Volume 11
offers another excellent volleyball match between Karasuno and a team it cannot beat. Furudate keeps the readers on the razor's edge, taking such matches to cliffhanger endings. Still, he can make the most of blowouts, because there is always a lesson to learn about sportsmanship and about being an athlete in team sports.
I READS YOU RECOMMENDS:
Fans of sport manga will want the Shonen Jump title,
Haikyu!!
A
Support this writer on Patreon
Last Updated: Jun 26, 2018 - 9:28