Haikyu!! Volume 8 manga review
By Leroy Douresseaux
Mar 21, 2017 - 22:43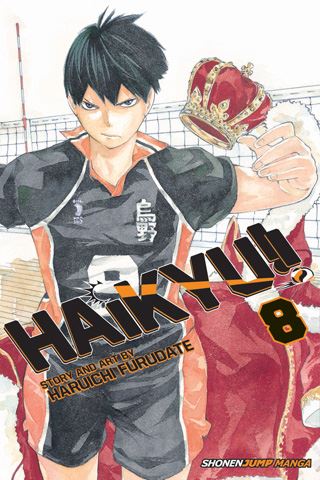 Haikyu!! Volume 8 cover image
Rated "T" for "Teen"
Shoyo Hinata
saw the legendary haikyu (volleyball) player known as "the Little Giant" compete at the national volleyball finals. Since then, Shoyo has been aiming to be the best volleyball player ever. However, in a sport in which tall athletes dominate, Hinata's height of 5'4" is considered too short. Now playing for
Karasuno Public High School
, he does not believe that a player needs to be tall in order to play volleyball, especially when a player can jump higher than anyone else – as he can.
As
Haikyu!!

, Vol. 8
(entitled
Former Lonely Tyrant
; Chapters 63 to 71) opens, the
Miyagi Prefectural Inter-High Qualifier Tournament Round 3
match continues. This surprising match is between formidable
Aoba Johsai
and Karasuno. The game is tied one set apiece, and now both teams find themselves in the dogfight of their lives.
[This volume includes the bonus stories, "Please Teach Me! Ennoshita Senpai!" and "Class 1-3's Kageyama-kun."]
THE LOWDOWN:
The
Haikyu!!
manga makes me think I should watch more competitive volleyball (haikyu). Yes, this manga reminds me of Tite Kubo's legendary basketball manga,
Slam Dunk
, but
Haikyu!!
creator
Haruichi Furudate
has created a spirited sports manga that could become a legend.
Haikyu!! Volume 8
offers a volleyball match that pretty much tops anything offered in this series so far. Furudate has introduced the game of volleyball in detail to his readers, and has made us be patient with the ebb and flow of both his narrative and his fabrication of a volleyball match. However, the Aoba Johsai/Karasuno match in Vol. 8 is explosive and edge-of-your-seat, and I hope for more of that.
I READS YOU RECOMMENDS:
Fans of sport manga will want the Shonen Jump title,
Haikyu!!
A-
Support this writer on Patreon
Last Updated: Jun 26, 2018 - 9:28