Haikyu!! Volume 6 manga review
By Leroy Douresseaux
Feb 28, 2017 - 21:46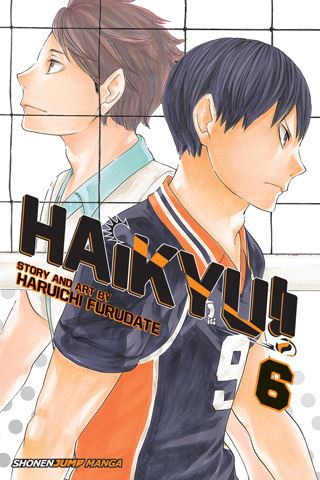 Haikyu Volume 6 cover image
Rated "T" for "Teen"
As a child,
Shoyo Hinata
saw the legendary haikyu (volleyball) player known as "the Little Giant" compete at the national volleyball finals. Since then, Shoyo has been aiming to be the best volleyball player ever. However, in a sport in which tall athletes dominate, Hinata's height of 5'4" is considered too short. Still, he does not believe that a player needs to be tall in order to play volleyball, especially when a player can jump higher than anyone else – as he can.
As
Haikyu!!

, Vol. 6
(entitled Setter Battle; Chapters 45 to 53) opens, the summer Japanese National High School Sports Tournament continues.
Karasuno Public High School
(the "Crows") is in the second round of the volleyball section of what is also known as the "
Inter-High
" tournament. They are in the middle of a thus far successful match against
Date Technical High School
("Date Tech") and the school's "
Iron Wall
" of blockers. Even if Karasuno wins, they would have to face the formidable
Aoba Johsai
, and Karasuno has a recent history with them.
[This volume includes a bonus story, "The Iron Wall will rise and rise again."]
THE LOWDOWN:
The
Haikyu!!
manga makes me think of Tite Kubo's legendary basketball manga,
Slam Dunk
.
Haikyu!!
is its own thing, but sometimes creator
Haruichi Furudate
creates in-game action that recalls Slam Dunk.
Haikyu!! Volume 6
is a good example of that. We get the second half of one match and most of the first half of a second. Each one presents different problems for our heroes of Karasuno High. The good thing about that is that it allows Furudate to introduce the game of volleyball in detail to his readers. He makes us be patient with the ebb and flow of both his narrative and his fabrication of a volleyball match.
Haikyu!!
is not a fast break, but that allows us to visit with many characters. And this is certainly a character-rich sports drama.

I READS YOU RECOMMENDS:
Fans of sport manga will want the Shonen Jump title,
Haikyu!!
A-
Rating: A- /10
Support this writer on Patreon
Last Updated: Jun 26, 2018 - 9:28