Haikyu!! Volume 4 manga review
By Leroy Douresseaux
Oct 29, 2016 - 23:44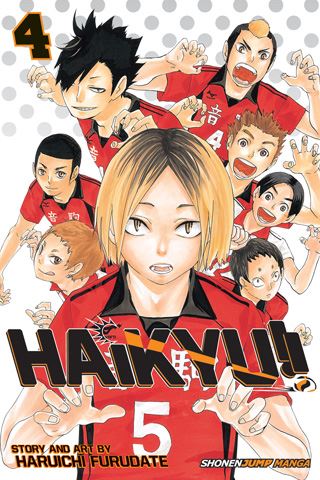 Haikyu Volume 4 cover image
Rated "T" for "Teen"
After Shoyo Hinata saw the legendary haikyu (volleyball) player known as "the Little Giant" compete at the national volleyball finals, he wanted to play. Since then, Shoyo has been aiming to be the best volleyball player ever. However, in a sport in which tall athletes dominate, Hinata's height of 5'4" is considered too short. Still, he does not believe that a player needs to be tall in order to play volleyball, especially when a player can jump higher than anyone else – as he can.
It's here!
Haikyu!!

, Vol. 4
(entitled Rivals!; Chapters 26 to 34) gives you the big practice game between Hinata's Karasuno Public High School (the "Crows") and Nekoma High School (the "Cats). This is a long-standing rivalry of teams that are no longer elite programs. Once upon a time, each school was a volleyball power, but each team is on its way back. However, one of the teams is closer to a return to power...
[This volume includes the bonus story, "The Pudding Head Story."]
THE LOWDOWN:
The Haikyu!! manga may draw comparisons to Tite Kubo's legendary basketball manga, Slam Dunk. Like that beloved shonen sports manga, Haikyu!! is powerful.
Haikyu!! Volume 4 offers the best volleyball match yet. Six of its nine chapters depict the action-paced game between Karasuno and Nekoma. The back and forth of the game is quite entertaining. Still, Haikyu!! has not spiked it; it has not hit its stride, but it is fun to follow this sports manga's explosive growth towards being a sports classic.
I READS YOU RECOMMENDS:
Fans of sport manga will want the Shonen Jump title, Haikyu!!
A-
Rating: A- /10
Support this writer on Patreon
Last Updated: Jun 26, 2018 - 9:28