Junji Ito: Gyo Volume 2
By Leroy Douresseaux
January 1, 2008 - 16:49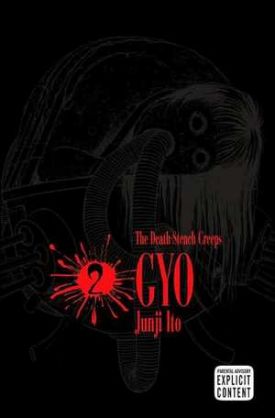 Thanks to barnesandnoble.com for the image.
Gyo

, Vol. 2
(Second Edition) concludes VIZ Media's republication of the Junji Ito
horror manga classic that last saw an English edition four years ago.
The horror began with nominal hero Tadashi and his girlfriend Kaori vacationing on the Japanese island of Okinawa. They suddenly find themselves in the middle of a peculiar and horrifying invasion from the ocean – strange fish with spider-like legs leaving the ocean to wreak havoc on land. This is just the prelude to a larger invasion of Japan.
Having returned to Tokyo, Kaori, somehow infected by one of the strange fish, goes into some kind of coma. Soon, sea life of every kind is walking on land – monstrous amalgamations of fish and contraption. When the fish die out or decay, humans begin to take their place skewered onto machine pods, and Tadashi, immune to the infection, desperately searches for answers.
[This volume also contains two Ito short stories: The vignette, "The Sad Tale of the Principal Post," and the short story, "The Enigma of Amigara Fault."]
THE LOWDOWN: Manga-ka Junji Ito trades in madness. While the influence of horror manga great, Kazuo Umezo (Drifting Classroom) is evident in his work, Ito also grows his dreadful crop of eerie fiction in the fetid, yet fertile ground of Edgar Allen Poe and H.P. Lovecraft. Ito's manga is the kind of work that might land an artist, at the very least, in front of a therapist, and not necessarily on a voluntary basis. The revulsion, disgust, and fear Ito creates with his work marks him not merely as brilliant, but also as a rare cartoonist that stands at the peak. While he ends Gyo on a note of hope, Ito has scarred the minds of his readers just as he has done to his victimized fictional Japan.
In the two smaller pieces that close out Gyo, Vol. 2, Ito offers tales that are both sublime and ridiculous, but weird enough to make even Robert E. Howard tip his hat to Ito.
POSSIBLE AUDIENCE: As part of the "VIZ Signature" line, Gyo is seinen manga (comics for adult men), but anyone who has ever read and enjoyed a horror comic will find something amazing in this exceptional work.
A
Last Updated: September 6, 2021 - 08:15