Junji Ito: Gyo Volume 1
By Leroy Douresseaux
October 15, 2007 - 11:45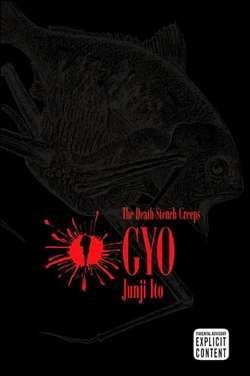 Thanks to barnesandnoble.com for the image.
Four years after its last English language edition, VIZ Media brings another incredible
Junji Ito
horror comic back into print.
Gyo

, Vol. 1
(Second Edition) is a like a cross between a George Romero zombie movie and a hellish version of the film
Jumanji
(not the original children's book).
Tadashi and his girlfriend Kaori are vacationing on the Japanese island of Okinawa when they suddenly find themselves in the middle of a strange and horrifying invasion from the ocean. After an argument, Kaori leaves the hotel where they are staying and has a run in with something small and shadowy hiding in some tall grass. Back in the hotel room, a horrible smell plagues the young couple, and Kaori undergoes another attack. This time, however, Tadashi traps the attacker – a strange fish… with spider-like legs, but even that is nothing compared to the terror that is coming. A larger invasion is about to begin, and though Tadashi and Kaori return to Tokyo, they may not be able to escape the horror.
THE LOWDOWN: A shamefully underutilized comic book writer once said (more or less) that effective horror fiction must involve the characters realizing that there is no God or Heaven to save them from monstrous evil. Junji Ito's Gyo personifies that, as the characters find themselves, at first, confronted by something that seems ridiculous, even comical. Then, the true scope of the horror comes in waves that grow stronger with each surge. It doesn't matter how much running, begging, screaming, praying, or even fighting back they do, hell is on earth… and it is only going to get worse.
What's amazing is that Ito depicts this with the most beautifully serene art. He doesn't use super-deformed, chibi, dynamism, or any kind of kinetic visuals readers associate with manga. Ito simply uses page after page of panels composed with a soft, lovely, exact line and texture intricately built with thousands of pen strokes. Gyo, Vol. 1 is so good that it's like witchcraft.
POSSIBLE AUDIENCE: As part of the "VIZ Signature" line, Gyo is seinen manga (comics for adult men), but anyone who has ever read and enjoyed a horror comic will find joy in this. Those who have never enjoyed horror comics will finally discover one that they can like.
A+
Last Updated: September 6, 2021 - 08:15