Bin Sunday Comics: Grumble: Chapter One - Page 12
By Leroy Douresseaux
January 11, 2015 - 08:29
«« First Comic « Previous Comic Archives RSS Feed Next Comic » Latest Comic »»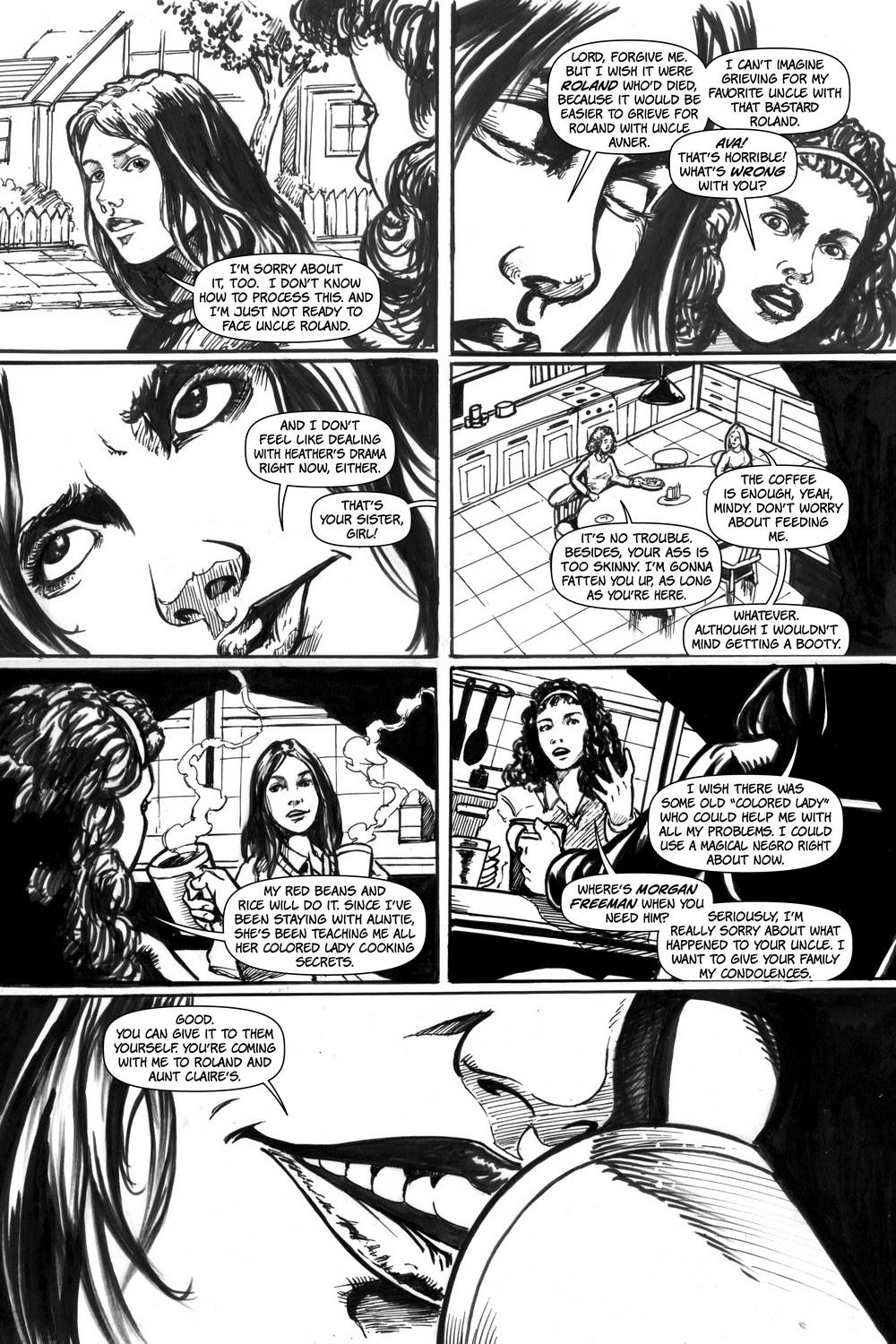 «« First Comic « Previous Comic Archives RSS Feed Next Comic » Latest Comic »»

NOTES ON GRUMBLE: CHAPTER ONE – PAGE 12:
With this page, I was still trying to create a sense of familiarity between Ava and Mindy. I think this is one of my Lifetime moments.

Publisher : Monster Comics
Written by : Leroy Douresseaux
Pencilled by : Diego Candia
Inked by : Diego Candia
Lettered by : Jaymes Reed

Monster Comics, in association with the Comic Book Bin, joins in the launch of Comic Book Bin Sunday Comics or, as I like to call it, "Bin Sunday Comics." We are starting with the first chapter of my dark fantasy and horror comic book, Grumble (a relaunch of sorts). This will be followed by the debut of Grumble: Chapter 2, sometime next year.

The story focuses on Ava Benson, a young woman who returns to her hometown following her beloved uncle's death. She finds the town under siege and a conspiracy brewing.

The story is written by Leroy Douresseaux. The art is drawn by Diego Candia. Letters and production are provided by Jaymes Reed of DigiCaps. Monster Comics logo by Doug Erb.

Grumble is copyright © 2015 by Leroy Douresseaux. Characters appearing in Grumble are copyright and TM Leroy Douresseaux.



Last Updated: May 18, 2020 - 11:53
Join the discussion: