Gothic & Lolita Bible: Volume 1
By Leroy Douresseaux
Apr 21, 2008 - 11:47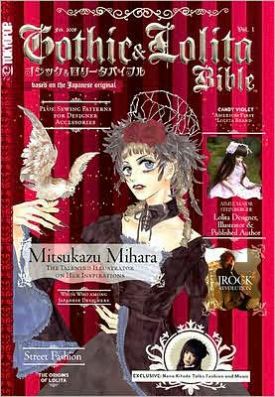 Thanks to barnesandnoble.com for the image.
TOKYOPOP's recent Gothic & Lolita Bible, Vol. 1, like much of the publisher's output, originated in Japan. Gothic & Lolita Bible is a magazine/book hybrid, known as a "mook." Although TOKYOPOP uses Mitsukazu Mihara's cover from the very first volume of the original Japanese Gothic & Lolita Bible for their own English language version, the content here reprints material from the Japanese Vols. 15-16, 21, and 23. There is also some original content.
While some American manga and Japanese culture fans refer to "Gothic Lolita" as a combined generic term, "Gothic" and "Lolita" are separate fashion cultures, and they also share some common roots. "Gothic" fashion relates to 14th and 15th century art and style, while having an atmosphere of gloom and romanticized moodiness. "Lolita" fashion takes a lead from Victorian and Edwardian style while taking its name from the title character of Vladimir Nabokov's novel, Lolita.
With that said, Gothic & Lolita Bible, Vol. 1 is a fashion magazine, a wondrous catalog and picture book of Gothic and Lolita clothing, dress, gear, outfits, jewelry, hair, makeup, and various accessories and the people that don them. There are articles, histories, interviews (manga-ka and illustrator Mitsukazu Mihara), illustrations, and fan art. Best of all, there are lovely photographs of young men and women sporting a ridiculously diversity of Gothic and Lolita costumes and attire.
Consider this a photographic art mook from "The Twilight Zone" via A Clockwork Orange, Dangerous Liaisons, Mad Max, etc. Some of it is scary, but Gothic & Lolita Bible is the one fashion magazine of which I plan on being a devoted reader.
Last Updated: Jun 26, 2018 - 9:28