Goodnight Punpun: Volume 7 manga review
By Leroy Douresseaux
Sep 18, 2017 - 23:04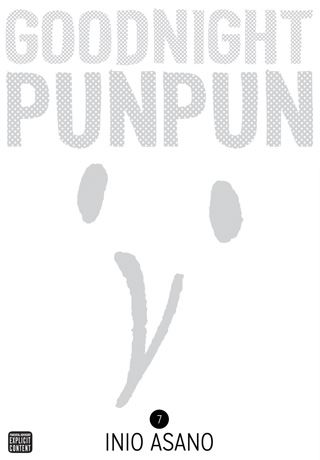 Goodnight Punpun Volume 7 cover image
Rated "M" for "Mature"
The English-language publication of the manga
Goodnight Punpun
comes to an end with the publication of the seventh volume. The creation of
Inio Asano
,
Goodnight Punpun
is a coming-of-age story that focuses on Punpun Onodera and chronicles his life from middle school through his adolescent and into his twenties with its trials and tribulations. VIZ Media is publishing Goodnight Punpun as a seven-volume graphic novel series. Each volume (except the final one) is an over-sized manga paperback containing two individual volumes (called "parts).
Goodbye Punpun

Vol. 7
contains Part 13 (Chapters 135 to 146 to Final Chapter) and opens with the final conflagration of the cult leader, charlatan, sorcerer,
Toshiki Hoshikawa
, a.k.a. "Pegasus," and his obedient followers. Meanwhile, Punpun and his "girlfriend,"
Aiko Tanaka
remain on the run, more or less, in the wake of Punpun killing Aiko's mother. The star-crossed couple is moving towards a doomed ending... at least for one of them.
THE LOWDOWN:
Some volumes of the Goodnight Punpun manga have left me feeling down with stories of death and despair (Vols. 3 and 4) and others have thrilled me with bold and scathing examinations of callow youth (Vol. 6).
Goodnight Punpun Volume 7
closes out the series as if the characters were entering a state of death. Considering the ambitions and dreams these characters had when they were younger, well, maybe they are dead... in a manner of speak, of course. There have been a few manga that I enjoyed that did not end in a spectacular fashion; they just sort of ended. I am not disappointed in the ending of Goodnight Punpun; in fact, I don't want the series to end. The ending is a new beginning, or maybe I am missing the point. What begins is really no story at all, but if there is a story, it's certainly not like the one that came before it.
I READS YOU RECOMMENDS:
Fans of 20-something character drama and melodrama will want the VIZ Signature title,
Goodnight Punpun
.
A
9 out of 10
Rating: 9 /10
Support this writer on Patreon
Last Updated: Jun 26, 2018 - 9:28