Goodnight Punpun: Volume 6 manga review
By Leroy Douresseaux
Sep 12, 2017 - 11:26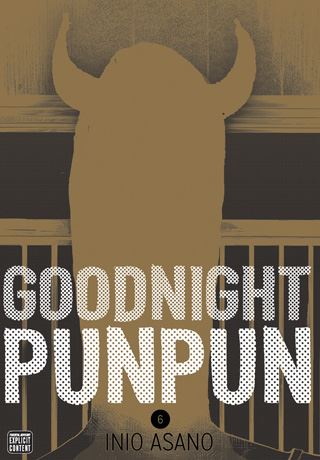 Goodnight Punpun Volume 6 cover image
Rated "M" for "Mature"
The manga
Goodnight Punpun
is the creation of
Inio Asano
. The series is a coming-of-age story that focuses on
Punpun Onodera
, beginning in middle school before moving on to his adolescent and college age trials and tribulations. VIZ Media is publishing Goodnight Punpun as a seven-volume graphic novel series. Each volume (except the final one) is an over-sized manga paperback containing two individual volumes (called "parts).
Goodbye Punpun

Vol. 6
contains Part 11 (Chapters 111 to 121) and Part 12 (Chapters 122 to 134).
Goodbye Punpun Part 11 finds Punpun and his "girlfriend,"
Aiko Tanaka
, visiting her mother. Aiko's mother has always controlled her daughter, but when she realizes that her child his trying to break free, thanks to Punpun's influence, violence breaks out. Cult leader, charlatan, sorcerer, etc.,
Toshiki Hoshikawa,
announces his new name, "Pegasus," and continues to talk up the day he says will transform the world. Meanwhile, his assistant/right-hand man,
Akinori Wada
, makes plans of his own in order to assure that something big and destructive does indeed happen.
In Part 12,
Nanjo Nishimura
, who is pregnant with Punpun's child, begins to search for him after she does not see him for several days. She returns to his childhood home and meets his father,
Mr. Punyama
. Meanwhile, Punpun and Aiko continue their trip, and Punpun's former classmate,
Masumi Seki
, takes a strange job assignment from Mr. Wada.
THE LOWDOWN:
Previous volumes of the Goodnight Punpun manga have left me feeling down (Vols. 3 and 4) or have thrilled me with bold and scathing examinations of callow youth (Vol. 6). I loved the poignant and heart-breaking mini-dramas that creator Inio Asano offered, but now the series takes a dark turn.
Goodnight Punpun Volume 6
feels like a modern apocalyptic drama with end-of-days cults and murderous youth. The narrative often seems not to judge these exceedingly self-absorbed man-children and wayward, aimless, and shiftless young women. That only serves to make the sudden violence even more horrifying. This series is moving towards a truly great ending.
I READS YOU RECOMMENDS:
Fans of 20-something character drama and melodrama will want the VIZ Signature title,
Goodnight Punpun
.
A
9 out of 10
Rating: 9 /10
Support this writer on Patreon
Last Updated: Jun 26, 2018 - 9:28