Goodnight Punpun: Volume 5 manga review
By Leroy Douresseaux
Mar 25, 2017 - 21:49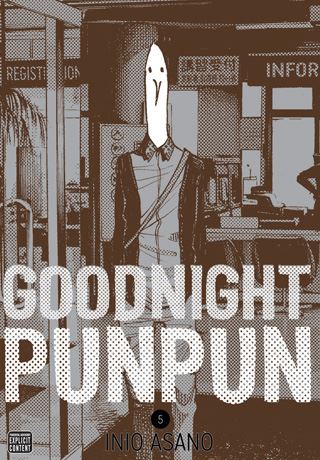 Goodnight Punpun Volume 5 cover image
Rated "M" for "Mature"
The manga
Goodnight Punpun
is the creation of
Inio Asano
. The series is a coming-of-age story that focuses on
Punpun Onodera
, beginning in middle school before moving on to his adolescent and college age trials and tribulations. VIZ Media is publishing Goodnight Punpun as a seven-volume graphic novel series. Each volume is an over-sized manga paperback containing two individual volumes (called "parts).
Goodbye Punpun,

Vol. 5
contains Part 9 (Chapters 90 to 99) and Part 10 (Chapters 100 to 110).
Goodbye Punpun Part 9 opens with a cult leader, charlatan, sorcerer, etc. announcing his run for mayor of Tokyo. His collection of followers grows when an acquaintance of Punpun's joins. Meanwhile, Punpun and 22-year-old cram school teacher,
Saichi Nanjo
, watch their careers as mangaka hit a roadblock. Does Punpun love Saichi and does she love him?
In Part 10,
Aiko Tanaka
, the girl Punpun has loved since elementary school, walks back into his life. She is supposed to be modeling for magazines, but her life is a bigger mess than she lets on. Meanwhile, someone is pregnant and needs Punpun's help. Punpun is busy getting laid.
THE LOWDOWN:
Previous volumes of the
Goodnight Punpun
manga have left me feeling down. Still, I loved the poignant and heart-breaking mini-dramas that creator Inio Asano offered. This is the kind of fearless human drama that the vast majority of comic book creators avoid in favor of creating comics that are fantasy, escapist, or flights of fancy.
Goodnight Punpun Volume 5
hits its stride in Asano's bold and scathing look at callow youth. On the other hand, the narrative is often not judgmental about these exceedingly self-absorbed man-children and wayward, aimless, and shiftless young women. It is funny and shocking and bittersweet, and I cannot get enough of this series. Asano is a mangaka in full.
I READS YOU RECOMMENDS:
Fans of 20-something character drama and melodrama will want the VIZ Signature title,
Goodnight Punpun
.
A
Rating: A /10
Support this writer on Patreon
Last Updated: Jun 26, 2018 - 9:28