Goodnight Punpun: Volume 4 manga review
By Leroy Douresseaux
Dec 31, 2016 - 22:41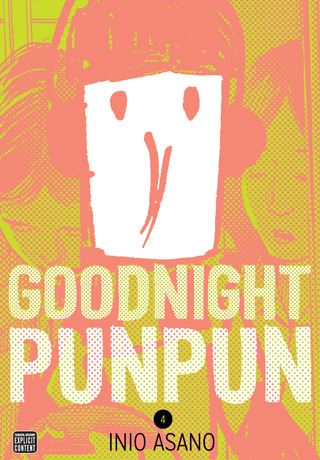 Goodnight Punpun Volume 4 cover image
Rated "M" for "Mature"
The manga
Goodnight Punpun
is the creation of
Inio Asano
. The series is a coming-of-age story that focuses on
Punpun Onodera
, beginning in middle school before moving on to his adolescent and college age trials and tribulations. VIZ Media is publishing
Goodnight Punpun
as a seven-volume graphic novel series. Each volume is an over-sized manga paperback containing two individual volumes (called "parts).
Goodbye Punpun

Vol. 4
contains Part 7 (Chapters 68 to 78) and Part 8 (Chapters 79 to 89).
Goodbye Punpun
Part 7 opens sometime after the death of Punpun's mother, Mama Onodera (who died of breast cancer). Punpun is ready to move out of the apartment he shares with his Uncle Yuichi and his wife,
Midori Okuma
. Punpun's father arrives and offers his son a place to live with him. Should Punpun accept, and exactly why is he moving out?
In Part 8, Punpun is walking through the city when he spots
Aiko Tanaka
, the girl he has loved since elementary. After losing her in the crowd, he decides to find an apartment in the area in the hopes that he will see her again. Then,
Saichi Nanjo
, the 22-year-old pretentious artist, enters his life again...

THE LOWDOWN:
In the review of the previous volume of the
Goodnight Punpun
manga, I wrote that I would be heartbroken if I did not know that this is fiction. Words and phrases like "teen angst," "dark," and "tragic" do not come close to describing this drama.
Well,
Goodnight Punpun Volume 4
offers a ray of light, if not little rays of hope and sunshine. Creator Inio Asano juxtaposes Punpun's life, in which he waits for things to happen to him, with the attitude of Saichi who is determined not to let the sticks and stones of her past to keep her from striving at everything. Saichi brings new life to this narrative and she puts some lead in Punpun's pencil, whether he thinks he needs it or not. There is a fly-in-the-ointment ending, but that simply makes me anxious to read the next volume.
POSSIBLE AUDIENCE:
Fans of youthful drama will want the VIZ Signature title,
Goodnight Punpun
.
A
Rating: A /10
Support this writer on Patreon
Last Updated: Jun 26, 2018 - 9:28