Goodnight Punpun: Volume 3 manga review
By Leroy Douresseaux
Sep 28, 2016 - 14:10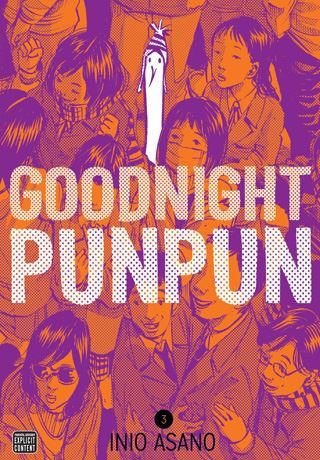 Goodnight Punpun Volume 3 cover image
Rated "M" for "Mature"
Goodnight Punpun
is a manga from creator
Inio Asano
(
Solanin
,
What a Wonderful World!
). The series is a coming-of-age story that focuses on
Punpun Onodera
, a boy in middle school and his adolescent trials and tribulations. VIZ Media is publishing
Goodnight Punpun
as a seven-volume graphic novel series. Each volume is an over-sized manga paperback containing two individual volumes (called "parts).
Goodbye Punpun

Vol. 3
contains Part 5 (Chapters 47 to 56) and Part 6 (Chapters 57 to 67).
As
Goodbye Punpun
Part 5 opens, Punpun decides that he wants to have sex. Back to reality: Punpun,
Mama Onodera
, and
Midori Okuma
(girlfriend of Punpun's absentee uncle,
Yuichi Onodera
) move out of the old apartment and into a new one. Now, it's time for high school.
In Part 6, Punpun is 15-years-old and freshly deflowered. A newly-minted high school student, he meets a girl,
Azusa Kanie
, and it's love at first sight. Of course, one must wonder how she feels. Plus, love, crushes, marriage and death.
THE LOWDOWN:
If I did not know that the Goodnight Punpun manga is fiction, I would be heartbroken. Calling it teen angst or tragic does not come close to describing this drama; such descriptions are likely shallow.
Goodnight Punpun Volume 3
defies description, which is what I wrote about Vol. 2. For all the loneliness the narrative depicts, the series is hopeful. Most of all, I think that it is about exploration. Creator Inio Asano is always digging in his characters, finding the sweet, sour, and unrelenting pungent. Poignant and heartbreaking: I think Asano finds beauty in the struggle and mystery of life. Drawing some of the characters as tubular-like caricatures does not blunt the power of this exceptional manga,
Goodnight Punpun
.
POSSIBLE AUDIENCE:
Fans of youthful drama will want the VIZ Signature title,
Goodnight Punpun.
A
Support this writer on Patreon
Last Updated: Jun 26, 2018 - 9:28