Golden Kamuy: Volume 4 manga review
By Leroy Douresseaux
April 15, 2018 - 23:13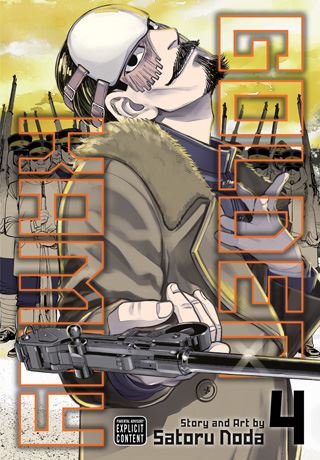 Golden Kamuy Graphic Novel Volume 4 cover image
Rated "M" for "Mature"
In the early 20th century Japan,
Saichi "Immortal" Sugimoto
, a veteran of the
Russo-Japanese war
, is scrapping out a meager existence. This is the postwar gold rush on the wild frontier of
Hokkaido
. Sugimoto stumbles upon the first "piece" of a map leading to a fortune in hidden gold belonging to the
Ainu
(an indigenous people of Japan and Russia). However, ruthless criminals and rogue Japanese soldiers are also hunting for the gold in the harsh northern wilderness. It will take all Sugimoto's talents and the help of an immensely-skilled Ainu girl named
Asirpa
to survive, let alone find the gold.
As
Golden Kamuy

, Vol. 4
(Chapters 28 to 38) opens, Sugimoto, Asirpa, and their new ally,
Yoshitake Shiraishi
("the Escape King") are trying to keep
Tetsuzo Nihei
, the legendary "Bear Killer," from killing
Retar
. He is the last remaining Ezo wolf, and Retar is a friend and companion of Asirpa's. Next, the trio returns to Asirpa's village with
Tanigaki
, a member of the
Hokkaido 7th Division
, which also seeks the gold.
Ushiyama
, the judo master, joins
Toshizo Hijikata
's band of convicts who are also hunting the gold. In addition,
Kazuo Henmi
, the notorious serial killer, enters the story.
THE LOWDOWN:
The Golden Kamuy manga is absolutely golden. The first volume was so good that I thought that it was a fluke. The first four volumes of the series should earn Golden Kamuy spots on both "best comics of 2017" and "best comics of 2018" lists.
Golden Kamuy Graphic Novel Volume 4
offers two new intriguing characters, two incredible new characters. An unstoppable judo master and a shadowy and unstoppable serial killer (with a blood-curdling origin story) will only make this already solid narrative a manga of steel.
When you think of the excellent cast, it is hard to resist. The star duo of Sugimoto and Asirpa are a winning pair, but I also find myself finding other characters in which to invest my heart. I am in love with the "Escape King" Shiraishi. Yes, creator
Satoru Noda
is killin' it, y'all! Dear readers, you need Golden Kamuy.
I READS YOU RECOMMENDS:
Fans of Westerns and of Japanese historical dramas will want to try the VIZ Signature title,
Golden Kamuy
.
A+
10 out of 10
Rating: 10 /10
Last Updated: May 19, 2020 - 12:25