Golden Kamuy: Volume 3 manga review
By Leroy Douresseaux
January 6, 2018 - 23:56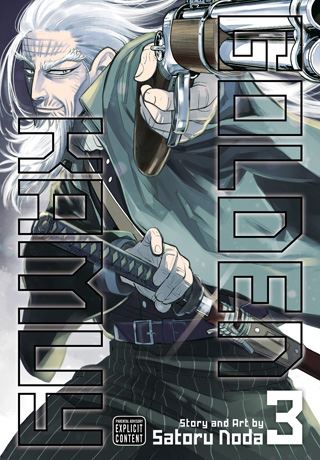 Golden Kamuy Graphic Novel Volume 3 cover image
Rated "M" for "Mature"
It is early 20th century Japan.
Saichi "Immortal" Sugimoto
, a veteran of the Russo-Japanese war, is scrapping out a meager existence during the postwar gold rush on the wild frontier of
Hokkaido
. Sugimoto stumbles upon the first "piece" of a map leading to a fortune in hidden gold belonging to the
Ainu
(an indigenous people of Japan and Russia). However, ruthless criminals and rogue Japanese soldiers are also hunting for the gold in the harsh northern wilderness. It will take all Sugimoto's skills and the help of a immensely-skilled Ainu girl named
Asirpa
to survive, let alone find the gold.
As
Golden Kamuy

, Vol. 3
(Chapters 18 to 27) opens, Sugimoto is being held prisoner at the
Hokkaido 7th Division Barracks
. Asirpa and new ally,
Yoshitake Shiraishi
, the genius escape artist, are plotting to free Sugimoto, and Shiraishi thinks he has a plan. Also, new players,
Tetsuzo Nihei
(the nightmare bear hunter") and
Tanigaki the Matagi
, enter the game of lost Ainu gold.
[This volume includes a bonus story.]
THE LOWDOWN:
I have already decided that the first volume of the Golden Kamuy manga was not a fluke. The first volume simply stunned me, and the second volume confirmed the high-quality of this series. The third volume should get Golden Kamuy on some "best comics of 2017" lists.
Golden Kamuy Graphic Novel Volume 3
makes me believe that this series' great setting demands that only great characters populate the landscape. When I find a great manga, I sometimes try to understand why I like it. I'll probably go from one reason to another. Right now, I am loving Golden Kamuy because of the engaging characters; protagonists, antagonists, supporting characters, etc.: I find them lovable, even the bad/evil guys. Creator Satoru Noda is killin' it, y'all! He is certainly doing good work on the character front, and if you can't get enough of great characters, you need Golden Kamuy.
I READS YOU RECOMMENDS:
Fans of Westerns and of Japanese historical dramas will want to try the VIZ Signature title,
Golden Kamuy
.
A
9.5 out of 10
Last Updated: May 19, 2020 - 12:25