Golden Kamuy: Volume 2 manga review
By Leroy Douresseaux
October 20, 2017 - 12:14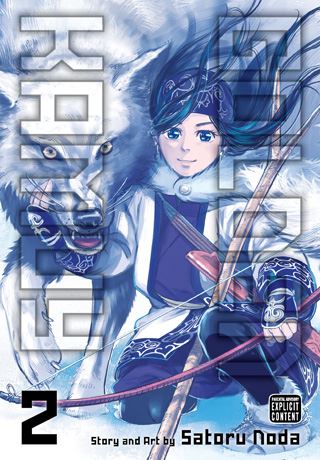 Golden Kamuy Volume 2 cover image
Rated "M" for "Mature"
In early 20th century Japan,
Saichi "Immortal" Sugimoto
, a veteran of the Russo-Japanese war, is scrapping out a meager existence during the postwar gold rush on the wild frontier of Hokkaido. Sugimoto stumbles upon the first "piece" of a map leading to a fortune in hidden gold belonging to the Ainu (an indigenous people of Japan and Russia). However, ruthless criminals and rogue Japanese soldiers are also hunting for the gold in the harsh northern wilderness. It will take all Sugimoto's skills and the help of a immensely-skilled Ainu girl named
Asirpa
to survive, let alone find the gold.
As
Golden Kamuy

, Vol. 2
(Chapters 8 to 17) opens, Sugimoto and Asirpa are living off the land, thanks to the Ainu girl's skills. Their peace is interrupted when they encounter a small group of men from the
Hokkaido 7th Division
, which is also looking for the gold, so the duo splits up. Sugimoto faces off against the men, near the den of an angry brown bear. Meanwhile,
Retar
, a rare Ezo wolf that Asirpa has befriended for years, arrives to help her. Sugimoto and Asirpa's adversaries are relentless and are willing to kill anyone who stands in their way – even each other.
[This volume includes a bonus story.]
THE LOWDOWN:
The Golden Kamuy manga is not a fluke. The first volume simply stunned me. It was one of the best comics that I had read all year, so is the second volume. I wouldn't be surprised to see this graphic novel series make some "best of 2017" lists.
Golden Kamuy Volume 2
opens with four intense chapters, featuring some of the best and fastest-moving action sequences that I have read in years. Creator
Satoru Noda
is killin' it, y'all! The first volume showed tremendous attention to technical details concerning costumes, uniforms, tools, guns and ammunition, etc. This volumes delves in the characters, and especially into the culture and life of Asirpa's village. In a way, Golden Kamuy seems like an American frontier Western film or story, and with Vol. 2, it turns a bit anthropological. I can't wait for the third volume.
I READS YOU RECOMMENDS:
Fans of Westerns and of Japanese historical dramas will want to try the VIZ Signature title,
Golden Kamuy
.
A
9.5 out of 10
Rating: 9.5 /10
Support this writer on Patreon
Last Updated: December 31, 2019 - 20:28