Golden Kamuy: Volume 1 manga review

By Leroy Douresseaux
June 24, 2017 - 10:07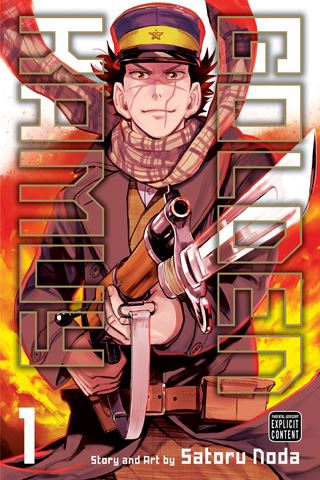 Golden Kamuy Volume 1 cover image
Rated "M" for "Mature"
Golden Kamuy
is a historical drama from manga creator
Satoru Noda
. The story follows a war veteran's quest for hidden gold in Japan's wild northern frontier and the native Ainu girl who helps him.
Golden Kamuy

, Vol. 1
(Chapters 1 to 7) opens early in 20th century Japan.
Saichi "Immortal" Sugimoto
, a veteran of the Russo-Japanese war, is scrapping out a meager existence during the postwar gold rush on the wild frontier of
Hokkaido
. Sugimoto is called "Immortal" because he refused to die during the war and killed anyone who tried to kill him.
Sugimoto will need all his survival skills after he stumbles upon the first "piece" of a map leading to a fortune in hidden gold belonging to the
Ainu
(an indigenous people of Japan and Russia). However, ruthless criminals and rogue Japanese soldiers are also hunting for the gold in the harsh northern wilderness. It will take all Sugimoto's skills and the help of a immensely-skilled Ainu girl named
Asirpa
to survive, let alone find the gold.
THE LOWDOWN:
The
Golden Kamuy
manga simply stuns me. It is one of the best comics that I have read all year, and I wouldn't be surprised to see it make some "best of 2017" lists.
In the seven chapters that compose
Golden Kamuy Volume 1
, creator Satoru Noda seems to do everything right. There is tremendous technical details concerning costumes, uniforms, tools, guns and ammunition, etc. The story deftly mixes elements of both man vs. man and man vs. nature, with a battle against a monstrous brown bear being a standout. In a way, Golden Kamuy seems like an American frontier Western film or story.
There are scenes of taut action, intimate drama, and tense duels played out between well drawn characters. The Ainu girl, Asirpa, is not really a supporting character. She is every bit as interesting as Sugimoto (if not more so). The adversaries of the series leads are a growing menagerie of mysterious, lethal, and alluring characters. I can't wait for the second volume.
I READS YOU RECOMMENDS:
Fans of Westerns and of Japanese historical dramas will want to try the VIZ Signature title,
Golden Kamuy
.
A
9.5 out of 10
Rating: 9.5 /10
Last Updated: May 19, 2020 - 12:25