Comics / Comic Reviews / More Comics
Gingerbread Girl
By Leroy Douresseaux
November 20, 2011 - 07:56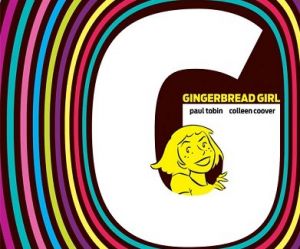 Gingerbread Girl cover image
Gingerbread Girl is an original graphic novel from writer Paul Tobin and artist Colleen Coover. It is a mystery story (of sorts) about a captivating, 20-something who has a missing twin sister… or not.
Annah Billips is a 27-year-old single girl who likes vintage fashions, piglets, massages, extra spicy food, farting and puddles (among other things). Cute and charismatic, Annah is, however, totally exasperating for the guys and (yes) girls who want to date her. Annah believes that when she was nine-years-old, her scientist father extracted a part of her brain (the Penfield Homunculus) and grew it into a twin sister. Annah called this version of herself the "Gingerbread Girl" or Ginger.
Does Annah really have such a twin sister? Or is she just insane? A host of co-narrators and commentators, including a pigeon, a bulldog, a magician, neighborhood types, a boyfriend, and girlfriend, try their best to unlock the mystery called Annah. And her best friend, Chili Brandals, also wants to date her.
While reading Gingerbread Girl, I started to wonder if Ginger was just an excuse Annah made so that she didn't have to ever enter a long-term committed relationship. Listening to the afro-ed Chili, you might even get the idea that Annah could be the doppelganger. Sometimes, writer Paul Tobin's story is a bit too oblique and coy for the story's own good, but for the most part, Tobin offers an interesting character in Annah. Much of what is interesting about this story comes from the fact that readers have to seriously engage the dilemma that is Annah without the reward of easy conclusions.
Artist Colleen Coover's storytelling is like a blend of Seth and New Yorker cartoonists with the pastoral melancholy of Charles Schulz. The art is pretty, and Coover's clean line discloses the story in an open way that makes the frequent interjection of different narrators not be jarring, but illuminating, in a small way. Gingerbread Girl is not a great work, but it is something good for comics. It's something delightfully different.
Last Updated: August 31, 2023 - 08:12