Gimmick!: Volume 9
By Leroy Douresseaux
October 11, 2009 - 15:06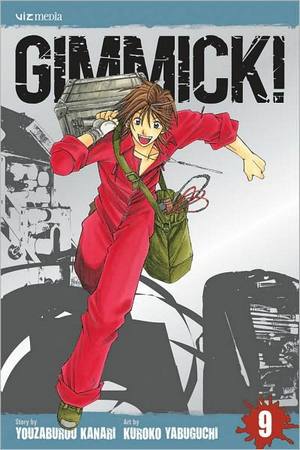 Gimmick Volume 9 cover image is courtesy of barnesandnoble.com.
Rated "T+" for "Older Teen"
Kohei Nagase was the top prodigy of makeup and special effects in Hollywood, but he returned to his native Japan, where he formed Studio Gimmick. Kohei and his partner, a talented stuntman named Shingo Kannazuki, not only use their skills and talents on film sets, but also to help troubled clients. From people who have trouble with the paparazzi to people who just don't want to be recognized, Kohei and Kannazuki can save the day.
Gimmick!, Vol. 9 opens well into the final round of the 2006 Japan Special Make-Up Association Contest (J-SMAC). The finalists are Kohei and a shocking opponent, his rival Kazuki Nomabuchi. Kazuki was also a student of Kohei's mentor, Jack "JT" Taylor. This is a battle to preserve the very soul of special effects, pitting Kohei's sincere love for his art against Kazuki's corrupt and cavalier attitude that is almost anti-film and anti-audience. No blow is low enough for Kazuki, and he cynically plots to bring down Kohei. Will Kohei be able to overcome his own doubts and the sudden, painful, physical symptoms in his right hand to defeat Kazuki's underhanded ways and win J-SMAC?
THE LOWDOWN: The high concept, action/mystery, Gimmick! comes to an end with this ninth volume, which contains Parts 3-8 of the "Third Man" storyline (which pits Kazuki against Kohei) and a three-chapter set that features a surprising, but inevitable reunion. This series could have run even longer because it has an open concept or hook – troubleshooters who use movie special effects to help clients. This concluding volume is more about Gimmick!'s internal mythology (Kohei's history and motivations) than it is about the hook.
Writer Youzaburou Kanari was quite good and, at times, even very clever at coming up with stories built around SFX nerds creating masks, prosthetics, costumes, etc. for contests, missions of mercy, and investigations. Artist Kuroku Yabuguchi was not only good at storytelling, but his compositions made Gimmick!'s eccentric stories visually engaging and sometimes arresting.
POSSIBLE AUDIENCE: Movie buffs will like Gimmick!, but fans looking for unusual comic books may also find this series to be an enjoyable read.
A-
Last Updated: August 31, 2023 - 08:12