Gimmick!: Volume 8
By Leroy Douresseaux
August 6, 2009 - 10:01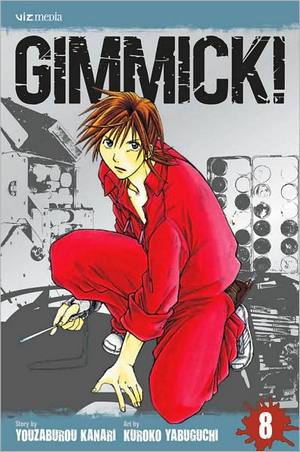 Gimmick! Volume 8 cover image is courtesy of barnesandnoble.com.
Rated "T+" for "Older Teen"
He was the top prodigy of makeup and special effects in Hollywood, but Kohei Nagase returned to his native Japan, where he formed Studio Gimmick. Kohei and his partner, a talented stuntman named Shingo Kannazuki, not only use their skills and talents on film sets, but also to help troubled clients. From people who have trouble with the paparazzi to people who just don't want to be recognized, Kohei and Kannazuki can save the day.
Gimmick!, Vol. 8 takes readers from the opening round of the Japan Special Make-Up Association Contest (J-SMAC) to the shocking final, pitting Kohei against a surprising opponent – an adversary from his past. Along the way, Kohei must also battle the association's Chairman Takahiko Akutsu, who is determined to sabotage the competition so that only his organization's members will advance in the contest.
THE LOWDOWN: A high concept, action/mystery, Gimmick!, is normally a hybrid of the police procedural and the gun-for-hire genres – without the violence and with SFX replacing the gun as the weapon of choice. However, the eighth volume of Gimmick! focuses on a no-holds-barred contest of special makeup effects wizards. Writer Youzaburou Kanari and artist Kuroko Yabuguchi keep the excitement and suspense high; it's like a great playoff game between two championship contenders (pick your sport). This is one time when reading about special effects is as fun as watching a good movie.
POSSIBLE AUDIENCE: Movie buffs will like Gimmick!, but fans looking for unusual comic books may also find this series to be an enjoyable read.
A-
Last Updated: August 31, 2023 - 08:12