Gimmick!: Volume 7
By Leroy Douresseaux
June 7, 2009 - 18:11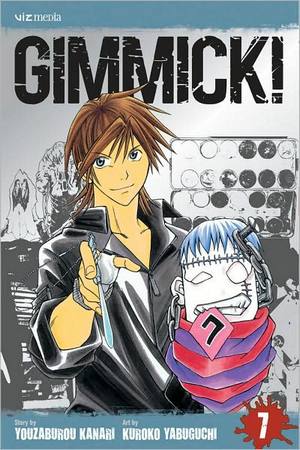 Gimmick! Volume 7 cover image is courtesy of barnesandnoble.com.
Rated "T+" for "Older Teen"
Kohei Nagase was the top prodigy of makeup and special effects in Hollywood, but he returned to his native Japan, where he formed Studio Gimmick. Kohei and his partner, a talented stuntman named Shingo Kannazuki, not only use their skills and talents on film sets, but also to help troubled clients. From people who have trouble with the paparazzi to people who just don't want to be recognized, Kohei and Kannazuki can save the day.
As Gimmick!, Vol. 7 begins, Kohei is helping a snotty rival, Kosei Kagase, who has gotten himself in trouble over large sums of money he borrowed. The question is whether the burnt out Kagase can be an SFX master again and save his own neck. Next, Kohei and Shingo join the crew of "Across Castle River," a low-budget indie with an impossible task master as director, but is this filmmaker such a jerk because he's haunted by painful past?
Finally, Kohei enters a special effects contest put on by the Japan Special Make-Up Association (J-SMAC). The competition turns out to be fixed, but Kohei is determined to enter and win. After all, winning may be the key to reuniting with his teacher, JT.
THE LOWDOWN: A high concept, action/mystery, Gimmick!, is a hybrid of the police procedural and the gun-for-hire genres. The difference is that Gimmick! is less violent (although the series does sometimes have big action scenes), and the gun of police and mercenary stories is replaced by SFX as the weapon of choice. The stories are full of tidbits on special makeup effects and animatronics, the kind of technical details that give stories realism and also intrigue readers.
POSSIBLE AUDIENCE: Similar in narrative structure and tone to Case Closed (Detective Conan), Gimmick! will please fans of adventure and detective fiction, especially Vol. 7, which is, thus far, one of the series collections.
A-
Last Updated: August 31, 2023 - 08:12