Gimmick!: Volume 6
By Leroy Douresseaux
April 9, 2009 - 11:17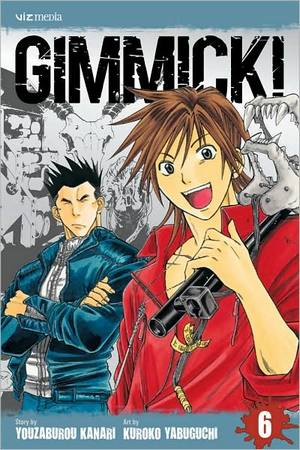 Gimmick! Volume 6 cover image is courtesy of barnesandnoble.com.
Rated "T+" for "Older Teen"
Although he was the top prodigy of makeup and special effects in Hollywood, Kohei Nagase left it behind and returned to Japan where he formed Studio Gimmick. Kohei and his partner, Shingo Kannazuki, a talented stuntman, not only use their skills and talents on film sets, but also to help troubled clients. From people who have trouble with the paparazzi to people who just don't want to be recognized, Kohei and Kannazuki can save the day.
Gimmick!, Vol. 6 begins with the second half of the "My Favorite Things" storyline, in which Studio Gimmick helps chart-topping, bubblegum pop princess, Maria Theron, learn the identity of the spy in her tour staff. Next, in "The Last Action Hero," Manabu Monma, a vain action movie actor, resents having Kannazuki perform the stunts for the movies in which Manabu stars. Manabu begins to do things to endanger Kannazuki's life, just when Kannazuki's mother has arrived on the scene and is demanding that her son retire from his dangerous profession.
THE LOWDOWN: A high concept, action/mystery, Gimmick!, is a hybrid of the mystery and crime genres. The series heroes are men-of-action and troubleshooters; it's kind of like the American television series, "MacGyver," except, in this case, the star is a special effects whiz. Gimmick! is not a great work, but it is a good read and is light entertainment in the vein of a favorite episodic TV series.
POSSIBLE AUDIENCE: Similar in narrative structure and tone to Case Closed (Detective Conan), Gimmick! will please fans of adventure and detective fiction.
B+
Last Updated: August 31, 2023 - 08:12