Gimmick!: Volume 4
By Leroy Douresseaux
December 7, 2008 - 14:42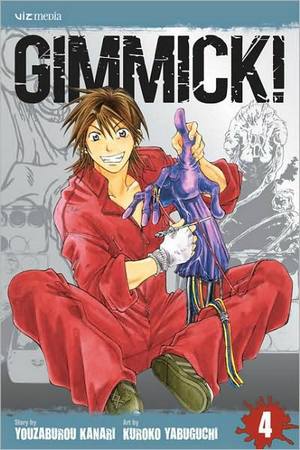 Gimmick 4 cover image courtesy of barnesandnoble.com.
Rated "T+" for "Older Teen"
In the world of Hollywood movie making, Kohei Nagase was the top prodigy of makeup and special effects. He left it behind and returned to Japan where he formed Studio Gimmick. With his partner, Shingo Kannazuki, Kohei uses his skills and talent to help troubled clients. From people who have trouble with the paparazzi to people in trouble with the wrong side of the law, Kohei and Kannazuki save the day!
Gimmick!, Vol. 4 finds Studio Gimmick with a full plate of needy clients. First, Kohei and Kannazuki close out the case of an endangered railway heiress, Kasumi Kobayakawa, and her scheming uncle. Next, Kohei tells his friend Mone how he and Kannazuki first met in "Great Stuntman." Then, there are aged actresses and a dying girl before Kohei and Kannazuki take on the mystery of the boy who would be Kohei.
THE LOWDOWN: A high concept, action/mystery, Gimmick! features engaging characters and the how'd-they-do-it allure of movie FX magic. While it won't have readers tearing through the pages the way people do with bestselling potboilers by John Grisham, Dean Koontz, or James Patterson, Gimmick! is exciting in a vein similar to detective manga, Case Closed (Detective Conan). Every volume will leave you wanting more.
POSSIBLE AUDIENCE: With a vibe similar to a police procedural, Gimmick! calls on fans who like a breezy read in a suspense genre.
B+
Last Updated: August 31, 2023 - 08:12