Gimmick!: Volume 2
By Leroy Douresseaux
August 6, 2008 - 14:00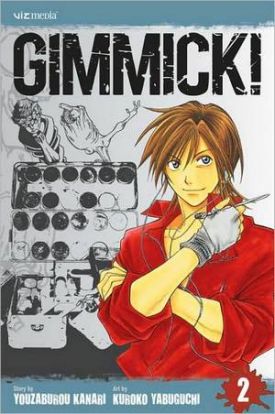 Thanks to barnesandnoble.com for the above cover image.
Rated "T+" for "Older Teen"
Kohei Nagase was Hollywood's top prodigy in the realm of makeup and special effects, but he left it behind to return to Japan where he formed Studio Gimmick. Now, with the help of his partner, Kannazuki, Kohei uses his skills and talent to help troubled clients. Don't want to be recognized, Kohei's makeup magic will save your day!
As Gimmick!, Vol. 2 opens, Kohei and Kannazuki are after Mizunuma, the criminal who has been using Kohei's beloved animatronics creature, Antaro, to commit crimes. Next, Kohei helps one of the world's most famous movie stars change his face to protect himself from a female stalker, but she isn't the only one gunning for the actor. Finally, Kohei comes to the rescue of a young woman who swears that Kohei killed her father. Who is the real culprit, and what's his connection to Kohei?
THE LOWDOWN: With so many comic book series and graphic novels being optioned for film and TV, I have to wonder that Hollywood is not aware of the fun mystery/action manga series, Gimmick!, from writer Youzaburou Kanari and artist Kuroko Yabuguchi. Special effects genius Kohei Nagase and his partner Kannazuki are really troubleshooters, of which there is a long tradition on American television, including everyone from "The A-Team" to "The Equalizer." Some may recognize Gimmick! as having a scenario similar to the 1980's movie, F/X.
In this case, the creators seem to have found a bottomless well of ideas and scenarios in which special effects and amazing facial masks can save the day. Gimmick!'s emphasis on the visual is tailor-made for the screen. Gimmick! is a light read, but the action can get pretty intense at times, but never more than anything one would find in a PG-13-rated movie. It should be a treat for fans of movie magic like makeup and practical special effects (as I am).
POSSIBLE AUDIENCE: Fans of entertainment media that blends action, intrigue, and mystery will find Gimmick! highly entertaining and imaginative.
B+
Last Updated: August 31, 2023 - 08:12