Genkaku Picasso: Volume 2
By Leroy Douresseaux
February 22, 2011 - 09:06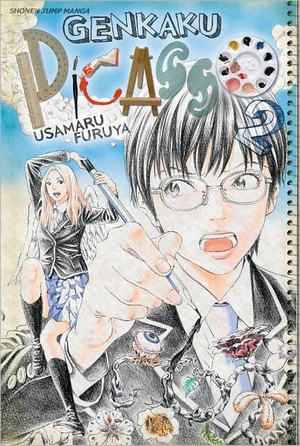 Genkaku Picasso Volume 2 cover image is courtesy of barnesandnoble.com.
Rated "T+" for "Older Teen"
Seventeen-year-old Hikaru Hamura is called "Picasso" by his classmates because of his natural artistic abilities. Hikaru and his only friend and classmate, 17-year-old Chiaki Yamamoto, are in a freak accident, but while Chiaki is killed, Hikaru escapes with his life. However, the cost for having cheated death is that Hikaru must use his artistic abilities to help people. Chiaki has returned as a diminutive spirit – Hikaru's Jiminy Cricket – to spur him into action.
In Genkaku Picasso, Vol. 2, Hikaru helps a classmate who is having problems with his girlfriend, or is it all in his mind? Later, he helps a teen girl who has turned her passion for mecha and for boys' love into a problematic dating and social life. There is also a boy who has a strange attraction to female products. Next, there is a girl who loves/hates a Walt Disney-like entertainment empire – a complicated relationship that manifests at a theme park. Hikaru isn't too happy about helping these people, but his body will rot away if he does not help them.
THE LOWDOWN: How does Hikaru help people? First, when he sees a dark aura around a classmate, he knows that is the sign that this classmate is having some psychological issue – something is bothering them. He immediately takes his sketchbook and somehow draws an illustration that symbolizes the person's problem. Hikaru and Chiaki enter the illustration where they have to unravel the mysteries of the symbols and determine what they mean.
As good as the dialogue is (and it's pretty sharp), Genkaku Picasso is strongly graphical in its storytelling. Whether the story takes place in the "real world" or in an illustration, this manga engages the readers, asking them to look deeply into each panel while simultaneously connecting them. This is a 3D-like experience of understanding the narrative's plot, characters, and settings (even the surreal settings). Genkaku Picasso is one of the most art-centric comic books I have ever read, and visually it offers so much on several levels. It's a shame that there is only one volume left.
POSSIBLE AUDIENCE: Readers who enjoy unusual manga will enjoy Genkaku Picasso.
A-
Last Updated: August 31, 2023 - 08:12