Genkaku Picasso: Volume 1
By Leroy Douresseaux
November 13, 2010 - 07:13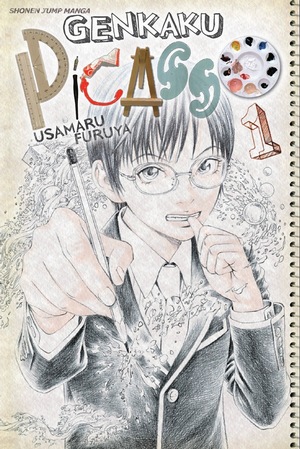 Genkaku Picasso Volume 1 cover image
Rated "T+" for "Older Teen"
Seventeen-year-old Hikaru Hamura is called "Picasso" by his classmates because of his natural artistic abilities. Hikaru's only friend and classmate, 17-year-old Chiaki Yamamoto, is killed in a freak accident that Hikaru escapes with his life. However, the cost for having cheated death is that Hikaru must use his artistic abilities to help people. Chiaki has returned as a diminutive spirit – Hikaru's Jiminy Cricket – to spur him into action.
In Genkaku Picasso, Vol. 1, Hikaru cheats death, but discovers that there is something rotten in the process. He helps three classmates deal with personal and psychological problems that are so complicated that they may lead to death.
THE LOWDOWN: The really creepy thing about Genkaku Picasso is the art, specifically the black and white pencil drawings that Hikaru creates when he goes into a trance-like state. These drawings, which hint at the deep-rooted problems of the students he is supposed to help, are part Salvador Dalí and part Gustave Doré. The drawings, which Hikaru and Chiaki enter in order to solve the mental mysteries, become surrealist landscapes filled with carnival-like attractions. The fun isn't in solving the students' problems, but in the problem solving that takes place in these strange worlds Usamaru Furuya creates for his young artist and lead character.
POSSIBLE AUDIENCE: Readers who enjoy stories about creativity and art and who don't mind a supernatural twist may like the unusual Genkaku Picasso.
B+
Last Updated: August 31, 2023 - 08:12