Locust Horde Takes Over Toronto Subway Station
By Eli Green
November 7, 2008 - 03:00
Down a dimly lit stairway, guided by the sounds of voices, gunfire and chainsaws, I made my way into the depths of Lower Bay Station, a rarely viewed portion of the Toronto subway system commonly only used for filming movies and television commercials. The platform was lit only by two subway cars and a collection of high definition screens, all surrounded by a mass of gamers waiting to get their hands on Epic Games and Microsoft Game Studios' latest shooter, Gears of War 2 , which has now begun selling at most retailers across North America or, for retailers which did not have midnight launches, will begin doing so in the morning.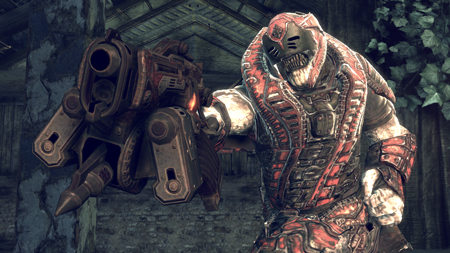 This was the scene at tonight's Gears of War 2 launch party, where various members of the mainstream and video game media, as well as VIP Xbox Live Toronto community members gathered until midnight to ring in the launch of what Microsoft expects to be the biggest blockbuster of the 2008 holiday season. Some attendees took the time to play through parts of the solo campaign, while others went straight for the multiplayer matches or, in the case of the mainstream television media, tried to collect as many interviews as possible for the 11 o'clock news.
The launch of Gears of War 2 was a long time coming for many, especially the game's creators. Cliff Bleszinski, Design Director at Epic Games, has already said quite a bit about how the team has furthered the players involvement with the game's story for the game and tonight Lee Perry, Senior Gameplay Designer for Gears of War 2 , who was on hand at the event to answer any questions about the game, explained the painstaking process of designing the game's core gameplay elements, before those elements even get approved for the game.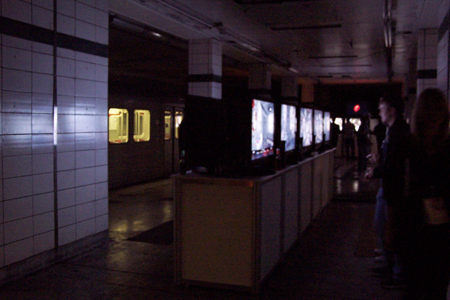 Things finally started to clear out near midnight.
Taking an example of a specific type of creature in Gears of War 2 Perry said, "What I do is come up with the idea for a monster. What if we made a monster that's got this big explosive flail, and a shield that you can pick up and play? How do we make that control for the player? How do we make it fun? How do we balance it? And then kind of go into a prototyping stage, where I'll make a rough version and try to prove that it's fun and it's something we should try and do before we kick it over to artists and programmers to spend a lot more time polishing it up". However, this was just an example of the process his team would go through to produce the elements that may make it into the final product. As he put it, "there's a boatload of work", between the approval of any specific game element and its final product.
Now that the final product is out, Bleszinski, Perry and the rest of the team from Epic Games have a bit of time to relax and play their game before their next big project. Gears of War 2 is available exclusively for Xbox 360 for $59.99 USD/CAD or in a special Limited Edition, with a SteelBook case and 48 page hardbound book called Beneath the Surface: An Inside Look at Gears of War 2, for $69.99 USD/CAD and is rated M for Mature. We'll have the complete interview with Lee Perry online later today.
Gears of War 2 Launch Trailer
Last Updated: September 6, 2021 - 08:15