Gangsta: Volume 2 Advanced manga review
By Leroy Douresseaux
May 18, 2014 - 16:16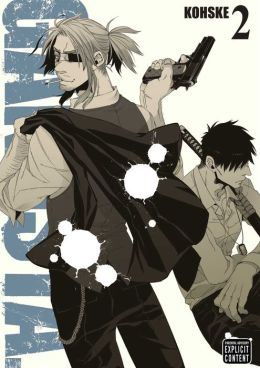 Gangsta Volume 2 cover image is courtesy of barnesandnoble.com.
Follow me on Twitter.
Rated "M" for "Mature"
Ergastulum City is filled with everything from mafia types to petty thieves. There are crooked cops, and prostitutes are plentiful. Enter the "Handymen," 35-year-old Worick Arcangelo and 34-year-old Nicolas "Nic" Brown. They are the guys who take care of the jobs no one else will handle.
As Gangsta, Vol. 2 (Chapters 6 to 11) opens, dismembered bodies are found in District 6. Inspector Chad Adkins of the Ergastulum City Police Department (ECPD) brings Nic and Worick in for questioning. Chad knows that the Handymen didn't kill these men, but he needs their help finding out who is involved in this horrific crime.
In the meantime, someone else is calling the Handymen in for help. Daniel Monroe, boss of the Monroe crime family, needs help fighting off an attack. And one of the attackers is a "Twilight" just like Nic.
THE LOWDOWN: The Gangsta manga is VIZ Media's latest rated "M" (for "Mature Readers) series from its VIZ Signature imprint. Created by female mangaka, Kohske, Gangsta is unapologetically violent.
I am using it to replace Jormungand, a seinen manga (comics for adult men) that I am surprised to discover I miss very much since it ended last year. I find Gangsta to be a more coherent and better executed (from a narrative standpoint) version of the manga, Dogs: Bullets & Carnage.
Kohske offers attractive characters and sparkling dialogue that is funny or glib, even in the middle of violent fight scenes and shootouts. Gangsta is imaginative and obviously has an intriguing back story, including the history of Worick and Nic. After finishing the first volume, I wanted more. Now, that I have finished Gangsta Volume 2, I can't wait for Vol. 3.
POSSIBLE AUDIENCE: Readers looking for some violent VIZ Signature action will want to go Gangsta.
Rating: A /10
Last Updated: August 31, 2023 - 08:12