Gangsta: Volume 1 Advanced manga review
By Leroy Douresseaux
Feb 16, 2014 - 16:14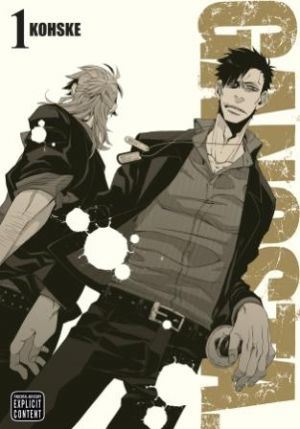 Gangsta Volume 1 cover image
Rated "M" for "Mature"
VIZ Media's latest rated "M" (for "Mature Readers) series from its VIZ Signature imprint is entitled, Gangsta, and is created by female mangaka, Kohske. Gangsta is set in the city of Ergastulum, a city filled everything from mafia types to petty thieves. There are crooked cops, and prostitutes are plentiful. Enter the "Handymen," 34-year-old Nicolas "Nic" Brown and 35-year-old Worick Arcangelo. They are the guys who take care of the jobs no one else will handle.
Gangsta, Vol. 1 (Chapters 1 to 5) opens with a whore named Alex Benedetto getting her assed kick. The 24-year-old has not made enough money to please her pimp, but it is about to get worse for Alex.
Police Inspector Chad Adkins has just delivered an assignment to the Handymen, Worick and Nic. Barry Abbot and his gang are expanding their criminal enterprise into restricted territories, and the mafia bosses want Worick and Nic to kill Barry and every member of his organization. Alex is part of Barry's organization. And Nic and Worick don't fail.
Later, Nic takes on a man much like himself. Alex picks up a few more tidbits about Nic from Big Mama Georgiana, madam of the "Pussy" Brothel.
THE LOWDOWN: The Gangsta manga is unapologetically violent. I used to hear people refer to certain movies that were rated "R" by the MPAA as being "hard R." Gangsta is a hard R. The setting, Ergastulum, is a world without mercy, but I don't want to spoil how Kohske shows that lack of mercy.
I will say that I really like this first volume. It reminds me of such body-count VIZ Signature titles as Black Lagoon, Dog: Bullets & Carnage, and Jormungand. All the Gangsta characters, even the "guest stars," are good, and Kohske sprinkles hints about the mysterious Nic throughout these early chapters that will tempt readers to return for more.
POSSIBLE AUDIENCE: Readers looking for some seinen action will want to go Gangsta.
Rating: A- /10
Last Updated: Jun 26, 2018 - 9:28