New PSP Firmware Will Add Google Search To The XMB
By Eli Green
June 16, 2008 - 22:45
Google search on PSP

Sony Computer Entertainment America (SCEA) announced today that the next system software update for PSP – Firmware version 4.00 – which will be available later this week, will add the Google search engine directly to the XrossMediaBar (XMB) user interface. This will make it considerably easier for PSP users to search the Web from their PSP.
The Google search engine will be accessible from the XMB's Network category, through a new Internet Search icon. It's just like searching from www.google.com while using the PSP, except that the Internet Search function will include an input history recall of up to 20 search items, making browsing more efficient (at least if you're searching for the same things quite often).
To get the Google search engine for PSP, all you need to do is update to Firmware version 4.00. Once the update is complete, you'll be able to access the Internet Search function from the XMB's Network category. Just remember that your PSP will actually need to be connected to the Internet for you to surf. Additional updates included with Firmware version 4.00 include the ability to change the viewing speed of videos stored on a Memory Stick PRO Duo card.
EA SPORTS Fantasy Football
to integrate console tools
Electronic Arts announced today that
EA SPORTS Fantasy Football
will be launching a new website that will include fantasy football applications specific to the Xbox 360 and Playstation 3 later this summer. The web-based service for
EA SPORTS Fantasy Football
, available at Fantasy.EASPORTS.com, is free. Xbox Live and Playstation Network members will have the opportunity to download fantasy football applications to their consoles, but will have to pay a currently undisclosed fee for them. In addition, gamers will have the first chance to play their fantasy football squad in
Madden NFL 09
, plus EA Experts, EA's internal team of fantasy football gurus, returns and serves as a go-to source for fantasy football information.
EA SPORTS Fantasy Football
paying customers will also get exclusive access to download the
EA SPORTS Fantasy Football Live Draft Tracker
application and experience a fantasy draft on their Xbox 360 or Playstation 3. Users will be able to view video clips and hear the EA Experts team comment on top players. Users will also be able to track their teams and leagues through the
EA SPORTS Fantasy Football Live Score Tracker
application, also available for download via Xbox Live or the Playstation Network.
The fantasy scores can be viewed in two ways: full screen mode with complete rosters and details or picture-in-picture mode which allows gamers to keep an eye on scoring updates while watching live football action.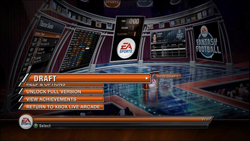 If you've ever wanted to test your fantasy team against others in the
Madden NFL
franchise,
EA SPORTS Fantasy Football
now gives you the opportunity. Through the website, players designate which fantasy team will be imported into
Madden NFL 09
. This fantasy team is a fully-functional created team and can be played in all areas available to created teams, including online head-to-head games, providing the ultimate football gaming experience. The web-based service is already available, and the console-based service will be available later this summer.
New
Fable 2
screens

We recently received some new Fable 2 screenshots from Microsoft. Enjoy!
Last Updated: September 6, 2021 - 08:15