Future Diary: Volume 1
By Leroy Douresseaux
May 21, 2009 - 09:56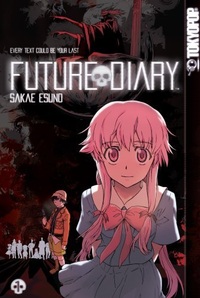 Future Diary Volume 1 cover image
Mystery; Rated "OT" for "Teen-Age 16+"
Yukiteru Amano is a lonely student whose only hobby is keeping a daily dairy on his cell phone. Yuki has also created an imaginary world where he interacts with Deus Ex Machina, who claims to be the King of Time and Space, and his assistant/messenger, Muru Muru. Yuki's biggest secret is that his cell phone is a device that predicts the future – a future diary.
In Future Diary, Vol. 1, Yuki learns a few things. Deus isn't just another figment of his imagination. He isn't the only holder of a future diary. There are 12 others. One of them is Yuno Gasai, a girl who is stalking Yuki because she loves him. Another is a serial killer targeting Yuki. It's all part of a survival game initiated by The King of Time and Space, a game that may cost Yuki his life.
THE LOWDOWN: While the publisher describes Future Diary as a mystery, it can also be described as a psychological thriller – especially considering the lead character, Yukiteru's mental state and his personality and social issues. Mystery, psychological thriller, suspense drama, etc. – whatever it's called, Future Diary best fits in the horror genre. Why? It's because this series is about a teen boy being chased by people who want to kill him, and the female who wants to be his girlfriend is a stalker who, in theory, must also murder him.
I find the art by creator Sakae Esuno to only be a little above mediocre, both in terms of drawing skill and storytelling, and I find the plot full of holes, as well as being convoluted. I also find this to be a decent to good read. If a creator can't make a great manga, he or she should at least give it a hook that catches readers. Future Diary does have that. It's chilling, wonky, little take on the idea of the most dangerous game – hunting humans. Future Diary is like the Highlander film franchise. Highlander's Immortals know that there can be only one, so they know that they'll eventually have to kill (or at least try to) their friends who are also Immortals. I imagine that Future Diary gets darker and sweeter as it goes along.
POSSIBLE AUDIENCE: Readers looking for a horror/psychological thriller will find it in Future Diary.
B-
Last Updated: May 19, 2020 - 12:25