Fushigi Yugi: Genbu Kaiden: Volume 10
By Leroy Douresseaux
September 23, 2012 - 16:18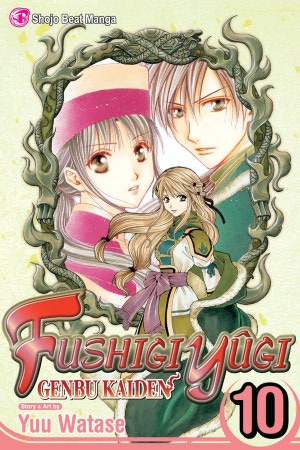 Fushigi Yugi Genbu Kaiden Volume 10 cover image is courtesy of barnesandnoble.com
Rated "T+" for "Older Teen"
In the year 1923, schoolgirl Takiko Okuda attempts to destroy The Universe of the Four Gods, a book her father is translating from Chinese. Instead, Takiko is sucked into the pages of the story and becomes the Priestess of Genbu, destined to save the country of Bêi-jîa. Takiko begins an epic journey to find the seven Celestial Warriors who will help her on her quest.
As Fushigi Yûgi: Genbu Kaiden, Vol. 10 begins, Takiko and her companions begin a new chapter in their adventures. However, Takiko is hiding a tragic secret from her friends; she is dying of tuberculosis. She now realizes that she must sacrifice her life to complete her quest. Takiko and the Celestial Warriors: Naname, Inami, and Hikitsu undertake a mission to infiltrate the palace of Emperor Tegil. Meanwhile, Uruki, Hatsui, and Tomite attempt to find Urumiya-Teg. Takiko also learns why Uruki and his father, King Temdan, hate each other so much.
THE LOWDOWN: As I've written before, it is a mighty love story that straddles the sands of time. The Fushigi Yûgi: Genbu Kaiden manga, which is a prequel to the manga series, Fushigi Yûgi, is historical fiction with elements of other genres and subgenres: comedy, family drama, romance, sword and sorcery, etc. Although the art is pretty (as the art for a shojo manga should be), it is the depiction of clothes and costumes and the environments and cityscapes that make Fushigi Yûgi: Genbu Kaiden convincing historical fiction.
POSSIBLE AUDIENCE: A "Shojo Beat" manga, Fushigi Yûgi: Genbu Kaiden will please fans of Chinese romantic adventure.
Rating: A- /10
Last Updated: August 31, 2023 - 08:12