Fushigi Yugi: Genbu Kaiden: Volume 9
By Leroy Douresseaux
November 6, 2009 - 15:09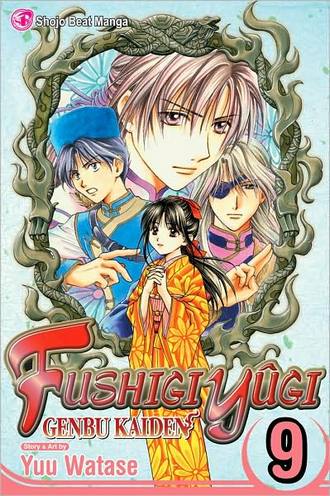 Fushigi Yugi Genbu Kaiden: Volume 9 cover image is courtesy of barnesandnoble.com.
Rated "T+" for "Older Teen"
In the year 1923, schoolgirl Takiko Okuda attempts to destroy The Universe of the Four Gods, a book her father is translating from Chinese. Instead, Takiko is sucked into the pages of the story and becomes the Priestess of Genbu, destined to save the country of Bêi-jîa. Takiko begins an epic journey to find the seven Celestial Warriors who will help her on her quest.
All the Celestial Warriors have been gathered, except for Urumiya. At rest in the enchanted Nassal Forest, the Celestial Warriors discovered that the Genbu Priestess must sacrifice her life in order to save Bêi-jîa. So Uruki and the rest of the Celestial Warriors force Takiko to return to her world.
As Fushigi Yûgi: Genbu Kaiden, Vol. 9 begins, Takiko has returned home to the time of her mother's death. Her father attempts to destroy The Universe of the Four Gods to keep Takiko from returning to Bêi-jîa. The young physician who took care of Takiko's mother, Dr. Oikawa, even proposes to her. However, Takiko soon makes a horrifying discovery that will make it difficult for her to be a loyal daughter and eventually a dutiful bride. She cannot leave her life in Bêi-jîa behind her. Meanwhile, that land suffers through a new ice age, and Uruki grieves Takiko's loss.
THE LOWDOWN: A mighty love story that straddles the sands of time, Fushigi Yûgi: Genbu Kaiden is a prequel to the shojo manga, Fushigi Yûgi. Genbu Kaiden is essentially historical fiction that encompasses so many other genres and subgenres: comedy, family drama, romance, sword and sorcery, etc. Fushigi Yûgi: Genbu Kaiden is a nice fantasy romance, but not really that different from most shojo manga, perhaps except for its setting.
The art by creator Yuu Watase is superb. The character drawings are excellent, as pretty as the art for a shojo manga should be. However, the drawings of the clothes and costumes are probably good enough to convince even skeptics to visit this series often.
POSSIBLE AUDIENCE: A "Shojo Beat" manga, Fushigi Yûgi: Genbu Kaiden will please lovers of that Chinese sword and sorcery/ romance blend.
B+
Last Updated: August 31, 2023 - 08:12