Foxy Lady: Volume 1
By Leroy Douresseaux
Jun 11, 2008 - 19:35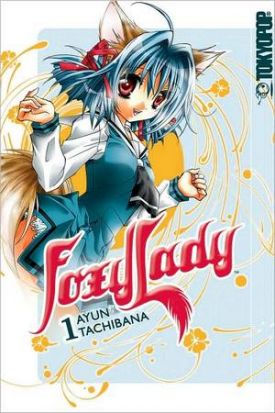 Thanks to barnesandnoble.com for the cover image to Foxy Lady 1
Rated "OT" for "Teen-Age 16+"
Jin Mikasa is the heir to the Mikasa Inari Shrine and is training to become a shrine priest. His world is turned upside down by the arrival of Kogane. She looks like a cute girl, but Kogane is really a half-demon and half-human fox. She's in the human world because she wants to become fully human, and in order to do that, Kogane must mate with Jin.
In Foxy Lady, Vol. 1, Jin meets Kogane, and Kogane meets Jin's perverted friend Sogo Aoyagi, who lives with Jin in a dorm above the Mikasa Shrine. Together, Jin and Sogo try to help Kogane assimilate into the human world and navigate the minefield that is high school.
THE LOWDOWN: One element immediately obvious about Foxy Lady (obvious to me as soon as I saw the cover) is the beautiful, textured art by manga-ka Ayun Tachibana. As pretty as it is, the art is also practical and the style is readily adaptable for scenes of action, comedy, and even some romance and fan service.
For the most part, Foxy Lady is a comic fantasy romp, although there are many romantic moments. The narrative feels awkward when Tachibana tries to force this to be a fantasy romance and the pace becomes clunky with too many dry spots – more stops than starts. In the second half of this volume, the stories focus on fantasy scenarios with comic implications, rather than romantic one; then, Foxy Lady really starts to come to life. It will be interesting to see where this goes.
THE LOWDOWN: Fans of comic fantasy will enjoy the second half of this book.
B
Last Updated: Jun 26, 2018 - 9:28