Forget Sorrow: An Ancestral Tale
By Leroy Douresseaux
Jun 5, 2010 - 20:03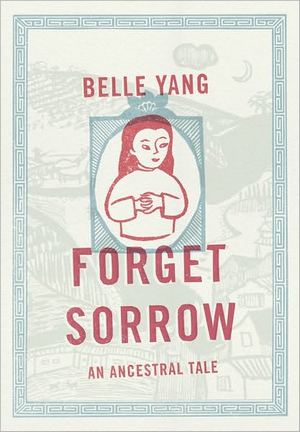 Forget Sorrow cover image is courtesy of barnesandnoble.com.
Belle Yang is an author of illustrated books for both children and adults. She makes her graphic novel debut with Forget Sorrow: An Ancestral Tale, in which she uses the comic book form to tell a personal story – part memoir and part Chinese history.
Belle's Chinese first name is Xuan, which means "Forget Sorrow." She started her graphic novel when she was forced to stay with her parents because of an abusive ex-boyfriend (called "rotten egg," here), who was stalking Belle and was thought to be an immediate threat to her life. As a form of therapy, Belle began to write down the stories her father, called "Baba," told her of his family and of his life growing up in Manchuria.
Baba's multigenerational stories revolve around his Grandfather, the patriarch of the wealthy House of Yang, and include Baba's own father (known as "Eldest Brother") and his father's three brothers (Baba's uncles). The story begins before the end the Qing Dynasty and continues into the era of the Republic of China before ending in the 1960s. It is a story of turmoil created by warlords and bandits, of Japanese invasion and occupation, of the Soviet invasion, of the struggle between the Nationalists and Communists for China, and of civil war. It is also a story of family strife, favorite sons, the dissolution of a great house, ancestral lore, and finally of father-daughter reconciliation.
As a graphic narrative, Forget Sorrow: An Ancestral Tale is similar in structure to Maus: A Survivor's Tale by Art Spiegelman. In Maus, a son recounted his elderly father's earlier life in Poland before and during World War II, while also detailing a present relationship between parent and child. In Forget Sorrow, Belle also presents, in comics form, her father's story of his family's past, while also depicting her relationship as an adult with her father.
Both books are stunning stories that use the comics medium in a powerful way to bring the distant past and distant places to life as vivid narratives. Forget Sorrow isn't just a graphic novel or graphic narrative; it's more like a comic book epic. Belle makes practically every panel a story onto itself, complete with character, narrative, and setting. Every page depicts some combination of Yang family history, ancestral lore, and/or national history in abundant visual detail that captures the imagination and transports the reader to a strange, but wonderful new world. Forget Sorrow must be what reviewers and critics mean when they describe something as "rich storytelling."
That a narrative so intimate can also be so grand in its scope and extensive in its storytelling is impressive. That it comes from a first time graphic novelist is nothing short of shocking, because Forget Sorrow is one of the year's best graphic novels. Read it and you will never want it to end.
A
Last Updated: Dec 19, 2017 - 22:52