Food Wars! Volume 15 manga review
By Leroy Douresseaux
Dec 10, 2016 - 19:40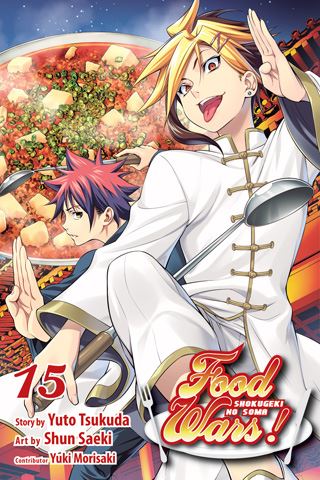 Food Wars Volume 15 cover image
Rated "T+" for "Older Teen"
He grows up cooking in Yukihira Family Restaurant, which is owned by his family and is located in a less attractive side of town. Fifteen-year-old
Soma Yukihira
wants to be a better chef than his father, Joshiro Yukihira. So the teen hones his skills day in and day out. Then, his father suddenly decides to enroll Soma in a classy culinary school,
Totsuki Saryo Culinary Institute
, a place that prides itself on a 10 percent graduation rate. Soma does not really want to attend Totsuki, so can he succeed?
As
Food Wars!: Shokugeki No Soma

, Vol. 15
(Chapters 119 to 127; entitled
The Moon Festival
) opens, Yukihara finds his shokugeki challenge to
Terunori Kuga
rebuffed. Kuga is a member of the
Council of Ten
, the best student chefs on campus. Kuga says that if Yukihara had even one thing that he could beat him at in cooking, Kuga would accept a challenge.
Yukihara thinks that he has discovered the method by which he could beat Kuga. The Totsuki Saryo Culinary Institute School Festival is coming up. Known, as "
The Moon Festival
," it is a place where Totsuki students can set up booths and sell food to the public. That is where Yukihara plans to challenge Kuga, but does Yukihara really understand just how formidable Kuga is? Probably not.
[This volume includes the side story, "Food Wars! Second Stomach! 3 and 4."]
THE LOWDOWN:
The
Food Wars!
manga is at its best when it depicts competition. The cooking challenges, tests, and battles offer readers imaginative dishes of food, while delivering pulse-pounding tension. [I don't really bother watching Food Network except during cooking competition programs.]
Food Wars!: Shokugeki No Soma Volume 15
finds creators
Yuto Tsukuda
and
Shun Saeki
throwing readers right back into the thick of competitive cooking. The Moon Festival is a pretty name, but the competition between student and club booths can get ugly. Luckily, that ugly makes for some exciting reading, and as usual, the ending makes me hungry for the next volume.
I READS YOU RECOMMENDS:
Readers hungry for good manga will want to sample the menu of the Shonen Jump Advanced title,
Food Wars!: Shokugeki No Soma
.
A
Support this writer on Patreon
Last Updated: Jun 26, 2018 - 9:28