Food Wars! Volume 14 manga review
By Leroy Douresseaux
Oct 17, 2016 - 20:52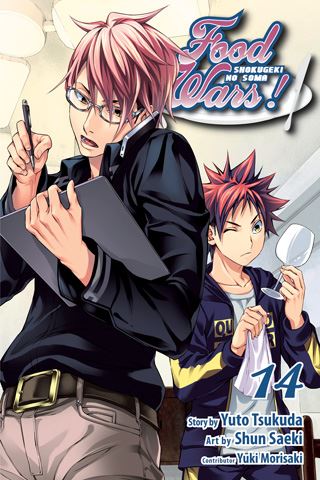 Food Wars Volume 14 cover image
Rated "T+" for "Older Teen"
Soma Yukihira
grows up cooking in
Yukihira Family Restaurant
, which is owned by his family and is located in a less attractive side of town. The 15-year-old wants to be a better chef than his father, Joshiro Yukihira. So the teen hones his skills day in and day out. Then, his father suddenly decides to enroll Soma in a classy culinary school,
Totsuki Saryo Culinary Institute
, a place that prides itself on a 10 percent graduation rate. Soma does not really want to attend Totsuki, so can he succeed?
As
Food Wars!: Shokugeki No Soma

, Vol. 14
(Chapters 110 to 118; entitled
The Magician Returns
) opens, Yukihara is in the second week of "
The Totsuki Institute Stagiaire Challenge
." "Stagiaire" is a French word for "intern" or "trainee," and culinary students who help out in the kitchen with prep work or minor chores are called "stagiaire" or "stagiair." So for the "Stagiaire Challenge," the students of Totsuki are assigned into real-world culinary environments for four weeks – each week at a different location.
Soma's second internship takes him to
Shino's Tokyo
, the latest restaurant from former Totsuki student and first seat,
Kojiro Shinomiya
. Many wonder why Shinomiya would open a restaurant in Japan, when he is still managing his sensational first restaurant in Paris. The situation could be the chance of a lifetime for Yukihara or it could be the assignment that gets him expelled from Totsuki.
[This volume includes the bonus comic, "Shino's Tokyo – Stagiaire Challenge."]
THE LOWDOWN:
One of the best things about the Food Wars! manga is competition. The cooking challenges, tests, and battles offer readers imaginative dishes of food, while delivering pulse-pounding tension.
Food Wars!: Shokugeki No Soma Volume 14
goes behind the scenes in a high-class restaurant owned by a star chef. Creators
Yuto Tsukuda
and
Shun Saeki
eschew the focus on foods, although that is a focus, but instead emphasize how important just doing a job assignment can be for an intern or new employee, especially in a busy kitchen. For this volume, the wonderful foodie manga becomes a workplace drama-comedy.
POSSIBLE AUDIENCE:
Hungry readers will want to sample the menu of the Shonen Jump Advanced title,
Food Wars!: Shokugeki No Soma
.
A
Rating: A /10
Support this writer on Patreon
Last Updated: Jun 26, 2018 - 9:28