Food Wars! Volume 13 manga review
By Leroy Douresseaux
Aug 30, 2016 - 7:58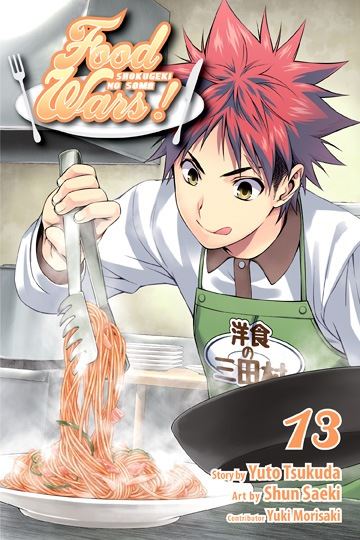 Food Wars Volume 13 cover image
Rated "T+" for "Older Teen"
Soma Yukihira
grows up cooking in
Yukihira Family Restaurant
, which is owned by his family and is located in a less attractive side of town. The 15-year-old wants to be a better chef than his father,
Joshiro Yukihira
. So the teen hones his skills day in and day out. Then, his father suddenly decides to enroll Soma in a classy culinary school,
Totsuki Saryo Culinary Institute
, a place that prides itself on a 10 percent graduation rate. Soma does not really want to attend Totsuki, so can he succeed?
As
Food Wars!: Shokugeki No Soma

, Vol. 13
(Chapters 102 to 109; entitled
Stagiaire
) opens, the
43rd Fall Classic
concludes. And it would be too good to be true if Soma wins, and he does not.
Well, now it's time for "
The Totstuki Institute Stagiaire Challenge
." "Stagiaire" is a French word for "intern" or "trainee," and culinary students who help out in the kitchen with prep work or minor chores are called "stagiaire" or "stagiair." So for the "Stagiaire Challenge," the students of Totsuki are assigned into real-world culinary environments for one week.
Soma ends up at
Mitamura's Western Cuisine
, but his partner is
Hisako Arato
, the friend of a rival. However, in order to pass, the duo must come together and really make a difference for the restaurant's owner,
Mamoru Mitamura
.
[This volume includes the "special short," "Ryo Nakama's Food Wars!" and the side story "Food Wars! Second Stomach 1 and 2."]
THE LOWDOWN:
My mouth was not watering the entire time I read this latest volume of the
Food Wars!
manga. Still, it was a damn good read that left me hungry for more.
Food Wars!: Shokugeki No Soma Volume 13
is another top flight volume in this graphic novel series. It was time for the Fall Classic arc to end, which it did in surprising fashion, making way for a new arc. The joyous reading was in the internship challenge story line. Creators
Yuto Tsukuda
and
Shun Saeki
always find a way to draw in the reader, and the stagiaire was not at all what I was expecting. Well, I always expect good from Food Wars!, and once again, I did get that.
POSSIBLE AUDIENCE:
Hungry readers and foodies will want to sample the menu of the Shonen Jump Advanced title,
Food Wars!: Shokugeki No Soma
.
A
Rating: A /10
Support this writer on Patreon
Last Updated: Jun 26, 2018 - 9:28