Food Wars! Volume 11 manga review
By Leroy Douresseaux
Apr 17, 2016 - 17:05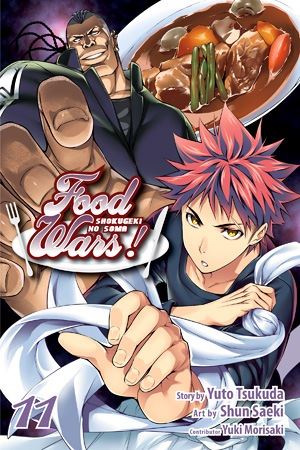 Food Wars Volume 11 cover image
Rated "T+" for "Older Teen"
Fifteen-year-old
Soma Yukihira
grows up cooking in Yukihira Family Restaurant, owned by his family and situated in a less attractive side of town. Soma wants to be a better chef than his father, Joshiro Yukihira. So the teen hones his skills day in and day out. Then, his father suddenly decides to enroll Soma in a classy culinary school,
Totsuki Saryo Culinary Institute
, a place that prides itself on a 10 percent graduation rate. Soma does not really want to attend Totsuki, so can he succeed?
As
Food Wars!: Shokugeki No Soma

, Vol. 11
(Chapters 84 to 92; entitled
The Sun Always Rises
) opens, the semifinals of the
Fall Classic
begin. Soma takes on
Subaru Mimasaka
in the first match. The theme is Western-styled dishes, and our hero has chosen beef stew. However, Subaru's talent is to trace everything his opponent does and take it one step further. What will Soma do when it looks as if Subaru's beef stew dish is an vastly improved version of his?
THE LOWDOWN:
Damn it, I didn't think that my mouth would still be watering the entire time I was reading another volume of the
Food Wars!
manga. The very thought of eel as a delectable dish is too much for me, but still...
Food Wars!: Shokugeki No Soma Volume 11
does it again. Eel may be slippery when wet, but if it is especially well prepared, it should feel just right in one's mouth – or so this manga seems to say. Speaking of fanservice,
Shun Saeki
turns shapely, comely young women into voluptuous victims of cuisine with Jennifer Lopez hips and Pamela Anderson bosoms.
There is a reason that four of the five judges for the Fall Classic are females. The better to show the ecstasy characters experience after tasting the dishes prepared by the blue chip young chefs of Food Wars. Bon appetit.
POSSIBLE AUDIENCE:
Hungry readers and foodies will want to sample the menu of the Shonen Jump Advanced title,
Food Wars!: Shokugeki No Soma
.
A+
Rating: A+ /10
Support this writer on Patreon
Last Updated: Jun 26, 2018 - 9:28