Food Wars! Volume 7 manga review
By Leroy Douresseaux
August 5, 2015 - 21:50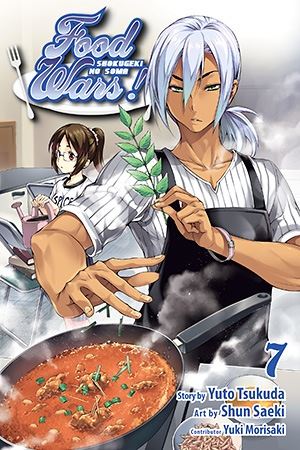 Food Wars Volume 7 cover image
Rated "T+" for "Older Teen"
Soma Yukihira
grows up cooking in Yukihira Family Restaurant, located on the less attractive side of town and owned by his family. The 15-year-old wants to be a better chef than his father, Joshiro Yukihira. So the teen hones his skills day in and day out. Then, his father suddenly decides to enroll Soma in a classy culinary school,
Totsuki Saryo Culinary Institute
. Soma does not believe he needs to go to school, so can he really succeed in a place that prides itself on a 10 percent graduation rate?
As
Food Wars!: Shokugeki No Soma

, Vol. 7
(Chapters 49 to 57;
Wolf Pack
) opens, the preliminary round of the
Fall Classic
begins. All the student contestants put forth their best and most imaginative efforts to impress judges who are not only acclaimed, but are also not easily impressed. Only the top eight contestants, four each from
Block A
and
Block B
, will make it to the main event. The dish that decides the fate of each student contestant must be a curry dish, so let the cooking and invention begin.
[This volume includes a bonus manga featuring results of fan polls.]
THE LOWDOWN:
Damn I'm hungry, again. Once more, I am enticed by the delicious dishes served up in the latest volume of the
Food Wars!
manga. After seven volumes and 57 chapters, I am ready to put some salt and pepper on this manga.
Food Wars!: Shokugeki No Soma Volume 7
is filled with imaginative and amazing takes on curry. This volume is an essay and part longish feature article on all the ways curry can be adapted. Still, this is also a humor manga. One of the funniest things about this volume is to see artist
Shun Saeki
draw each judge in a state of ecstasy over and over again as he or she (especially she) samples delectable curry dishes.
I guess great food does arouse. Still, I wonder... is there a high school equivalent culinary school where the students have the talent of a veteran chef or cook?
POSSIBLE AUDIENCE:
Hungry readers and foodies will want the Shonen Jump Advanced title,
Food Wars!: Shokugeki No Soma
, on their book list menu.
Last Updated: August 31, 2023 - 08:12